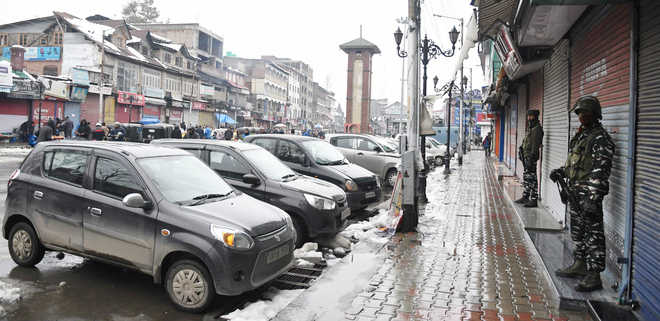 M Aamir Khan
Tribune News Service
Srinagar, November 11
There are almost no signs of normalcy in Kashmir Valley even 100 days after the abrogation of Article 370 that granted special status to the state of Jammu and Kashmir.
Even as three former chief ministers — Dr Farooq Abdullah, Omar Abdullah and Mehbooba Mufti along with several other leaders — continue to remain under detention since August 5, there has not been much respite for the common man either.
Schools remain shut
Without any shutdown call from any quarter, schools continue to remain shut, shops only open in the mornings, public transport especially buses are yet to return to roads and on top of that internet and prepaid mobile services are yet to resume.
Business activity hit
The only little sign of normalcy is the plying of private vehicles and sighting of roadside hawkers. The activity of hawkers, however, was hit due to the grenade attacks in Srinagar city. Moreover, the killing of 11 non-local truckers, traders and labourers, too, cast a shadow of fear on business activities.
There has not been much political activity either, barring the conduct of Block Development Council elections last month. Protests, too, have been curbed over the past 100 days.
The biggest worry for people is that they do not know how long the normal life is going to remain affected.
"There is a lot of uncertainty. We have seen street protests from 2008 to 2010 and then in 2016. Then, protests and shutdown would last till the Darbar Move. However, this year, the shutdown is still there more than a week after the Darbar Move. Schools are yet to reopen and the winter break starts in December. This means schools shall continue to remain shut till March – a seven-month break for schoolchildren – things cannot get worse," said Imran Nabi, a columnist.
While government offices have resumed functioning, shopkeepers and businessmen are among the worst hit. As per the Kashmir Chamber of Commerce and Industries (KCC&I), the lockdown has caused losses to tune of over Rs10,000 crore already.
Early snowfall adds to woes
With early snowfall adding to the woes, medicos said mental health related illnesses were on the rise. "There has been an increase in the cases of psychological distress and insomnia and other mental health cases. The biggest problem is that due to lack of public transport, people are unable to reach centres for counselling or medical assistance," said Dr Waqar Bashir – a mental health doctor.
ANC leaders to challenge detention in SC
The Awami National Conference (ANC) has decided to challenge what it calls "unlawful detention" of its leaders Muzaffar Shah and Begum Khalida Shah and also the detention of National Conference senior leader Mustafa Kamal before the Supreme Court. The decision to challenge their detention before the apex court comes even as the High Court on November 5 dismissed a petition challenging their alleged "unlawful house arrest" since August 5 without providing any relief to them. TNS