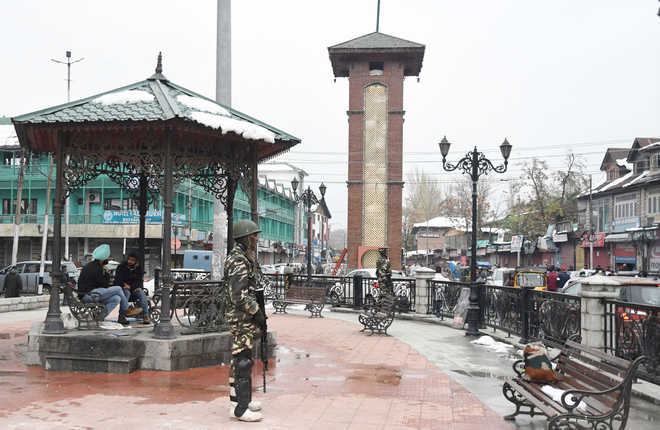 Sandeep Dikshit
Tribune News Service
New Delhi, November 13
US Congress members will examine witnesses on the situation in Jammu & Kashmir (J&K) for the second time in just over three weeks.
The Tom Lantos Commission Human Rights Commission, named after the only Holocaust survivor to serve in the Congress, will examine witnesses on the human rights situation in J&K on Thursday, said an announcement from this bipartisan Congressional Human Rights Caucus.
The commission comes down the pecking order than a House committee or subcommittee and witnesses have been known to refuse to turn up. The situation in J&K was critically panned by a sub-committee of the US House of Representatives on October 22. Though two speakers, Arti Tikoo Singh and Ravi Batra, weighed somewhat in India's favour, the overall trend went against its August 5 crackdown due to critical presentations from Nitisha Kaul and Angana Chatterji.
Co-chair of the Commission, James P McGovern, has been critical over the J&K lockdown and had recently written to Secretary of State Mike Pompeo asking him to put pressure on New Delhi to end its communications blackout and release all those "preventatively" detained.
However, the announcement on the hearing makes an attempt to include the views of all sides. It notes the increased militarisation and the economic and social consequences of the lockdown but also notes that militants have targeted migrant workers from outside J&K, and have threatened businesses to maintain a protest shutdown.
The Tom Lantos Commission has done much to soften the impact of the hard state in several countries. But it has also been accused of inadvertently help build up public opinion for the 1991 Persian Gulf War. When Lantos was alive, the Congressional Human Rights Caucus had heard an anonymous Kuwaiti woman who narrated horrific abuses by Iraqi soldiers. Her statement was used by then President George Bush and several Senators to justify a military attack on Iraq. Later, this woman turned out to be the daughter of the Kuwaiti ambassador to the US.
Critical hearing
This time, the field seems even more loaded against the Indian position
Among the witnesses, Prof Haley Duschinski has been venting on "the suffering of Kashmiri Muslims"
Sehla Ashai, a rights lawyer, describes herself as a "rabble rouser"
Two other witnesses, Anurima Bhargava from the US Commission on International Religious Freedom and John Sifton of Human Rights Watch are also expected to be critical
Top Stories