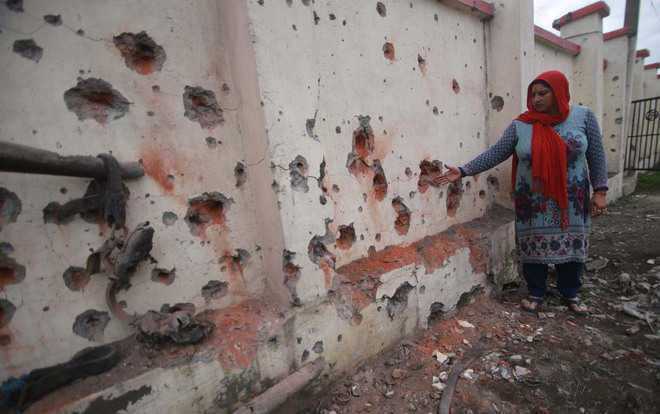 Ishfaq Tantry
Tribune News Service
Srinagar, October 21
The killing of Mohammad Sidiq Joo in cross-LoC shelling by the Pakistan army has not only brought gloom to Gundishot village of Tangdhar area, but has also cast a shadow on the forthcoming wedding of his elder daughter.
While Mohammad Maqbool Joo, 70, the elder brother of the deceased, is being treated in a Srinagar hospital for left arm injury sustained during the overnight shelling in the Gundishot village on Sunday, Sidiq Joo's family members have made up their mind to cancel the marriage of Saiqa, his elder daughter, which was scheduled on October 29.
"One brother is now in grave, the other is battling in Srinagar hospital with doctors saying that he may face amputation in the left arm. In these circumstances how can we think of going ahead with the marriage of Saiqa," Maqbool's nephew Fayaz Ahmad told The Tribune, who accompanied his injured uncle to the Srinagar hospital, where he is now receiving treatment.
Altaf Hussain, who runs a grocery shop in the Tangdhar main market and has been with his maternal uncle Maqbool at the hospital in Srinagar, said both brothers Sidiq Joo and Maqbool put up in one house which was hit by a shell around 11.30 pm on October 20 night.
"After a shell landed at the back of their house, both brothers ran out for cover in the only bunker in the village, but Sidiq was hit by a splinter in his abdomen on the stairs outside his house. He died on the spot, while Maqbool received a splinter injury in his left arm," Hussain said.
Sidiq was buried in the village graveyard around 11am on Sunday as by that time artillery guns on both sides of the LoC had fallen silent after an overnight roar. Apart from elder daughter Saiqa, Sidiq is survived by two daughters, 11-year-old son Umar and wife.
He said their nephew, Ghulam Murtaza, 34, who was with them at the time summoned courage and took the body of his uncle inside the house and managed to evacuate injured Maqbool to the nearby hospital in Tangdhar town, 7 km from the village. From there, Maqbool was referred to Bone & Joints hospital in Barzulla, Srinagar, and this morning he was referred to the Plastic Surgery Department of SKIMS, Soura, for further treatment.
"The whole family is in mourning. I haven't told my mother Ayesha Begum that her younger brother Sidiq is no more and another is admitted to a hospital. Amid this tragedy, I don't think that the family will go ahead with the wedding," Hussain added, while attending to his injured uncle in the Srinagar hospital.
Fear grips Tangdhar villages
Tangdhar, a bowel-shaped area tucked close to the LoC in north Kashmir, has a population of nearly 80,000 people. Fear has gripped villages along the LoC following intense shelling. The intense night shelling has spread panic in entire region and locals are really worried, said Aadil Ahmed, a Tangdhar resident. "For the whole Saturday night, my entire family did not sleep and we hid ourselves in a single room for safety," he added.