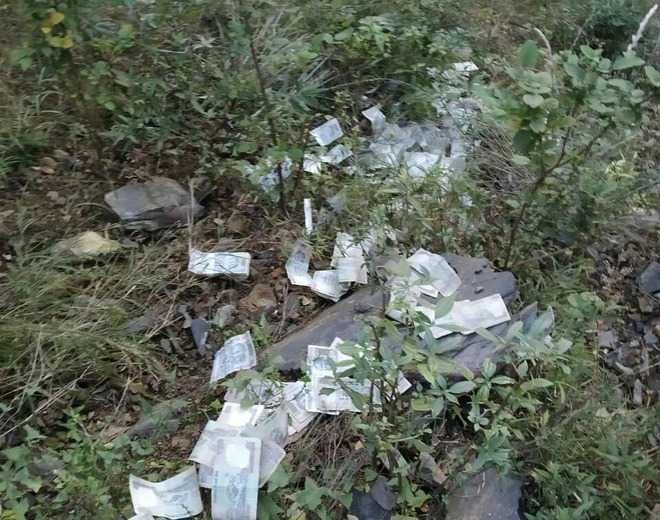 Dinesh Manhotra & Sanjay Pathak
Tribune Reporters
Jammu/Kathua, November 7
Inhabitants of remote Mandol village of Bani tehsil of Kathua district have set an example of 'perfect humanity' for the whole world as they preferred to protect lives of accident victims over collecting money scattered in front of them.
The poor villagers had two options — help the victims or pocket the cash spilled all around the accident site. They chose the first.
This heartening incident took place on Monday evening when a cash van of J&K Bank, carrying Rs 1.6 crore, plunged into a deep gorge at Kardoh Morh near Mandol village. All the four employees, travelling in the ill-fated cash van, lost their lives in the accident, but the villagers made every effort to save their lives.
"As soon as we got information about the accident, we rushed towards the site to start rescue operations," Moti Ram, sarpanch of the village, told The Tribune, adding, "When villagers reached the spot, currency notes were lying scattered all around the site as the van was carrying nearly Rs 2 crore notes, but all of them swung into action to rescue the victims instead of collecting the currency."
"Before the police reached, villagers had already started the rescue operation. They could have easily pocketed the cash spread all around but not even a single penny was picked by the poor people," the sarpanch said, adding, "The villagers started collecting the money only after the police and officials of the J&K Bank reached the spot and sought their help in collecting the cash."
All the victims were rescued and brought on the road by the villagers but three of them — Kewal Krishan, cashier, Harbans Singh and Yashpal — died. With the help of the villagers, Bikram Singh, driver of the vehicle was shifted to a hospital, where he succumbed to his injuries.
Senior Superintendent of Police (SSP), Kathua, Sridhar Patil has all praise for poor villagers who set an example of humanity. "The whole cash has been recovered from the spot with the help of villagers," Patil said and expressed his gratitude towards the locals for helping the accident victims.