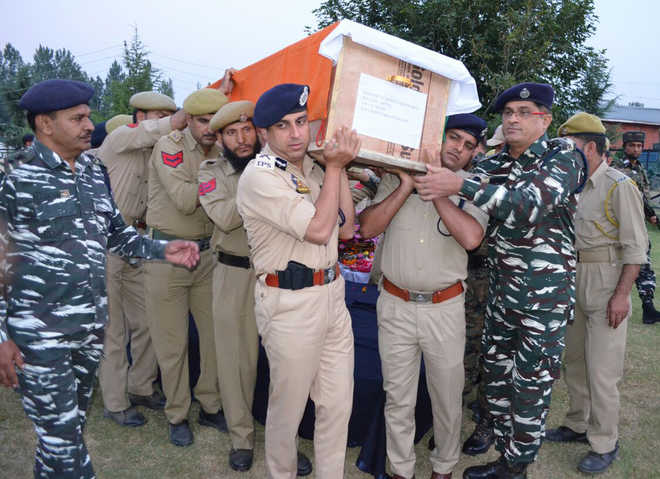 Srinagar, August 22
Eid festivity in militancy-hit Kashmir was marred with violent incidents in which militants shot dead three policemen on Wednesday, police said. A BJP activist was killed in north Kashmir's Kupwara district.
Militants reportedly barged into police inspector Mohammad Asharf Dar's house at Larva Pulwama to shoot him. "He was posted in District Police Lines, Budgam, and was home to celebrate Eid," a police officer said.
Dar's father-in-law Adbul ghani Dar was Pulwama district president of Peoples Democratic Party. The police blamed Hizbul Mujahideen for the killing of the inspector.
Another Special Police Officer, identified as Mohammad Yaqoob Shah, was shot at in Pulwama district. He was declared brought dead at the hospital. Inspector General of Police (Kashmir range) Swayam Prakash Pani led the police team to pay tributes to Shah at district police lines in Pulwama, a worst militancy-hit district.
Kulgam
In a third incident, Fayaz Ahmad Shah, a police constable who was still under training, was shot when he was returning home after offering Eid prayers in Kulgam, one of the worst militancy-hit districts of south Kashmir.
Shah, 34, was working with the Jammu and Kashmir Police as a Special Police Officer and had been given an out-of-turn promotion and selected as a constable. He was undergoing training at Talwara in Jammu region and had come home.
Militants pumped bullets at Shah from a close range near his house. He died almost instantly.
A pall of gloom descended on the policeman's native Zazripora village when the news of his death broke out. The Eid festivities turned into mourning at Shah's residence with his two minor daughters, aged five and two, unable to understand the sudden rush of people to their residence and the frequent breakdown of their mother and aged grandmother.
The family was inconsolable when his body wrapped in Tricolour was brought to their residence. A wreath-laying ceremony was held at district police lines, Kulgam, where officers led by Senior Superintendent of Police Harmeet Singh paid floral tributes to the police official.
Director General of Police SP Vaid termed the incident a "dastardly act". "It only shows the frustration of militants who are resorting to such a cowardly act of attacking an unarmed policeman," he said.
In another incident, body of a BJP worker identified as Shabir Ahmad Bhat was found in north Kashmir's Kupwara district. He was reportedly kidnapped by suspected militants last night. His bullet-riddled body was found in the fields at Rakh-e-Litter area of Kupwara, a police official said.
The incident evoked sharp reaction from BJP president Amit Shah who said extremists cannot stop the Valley's youths from choosing a better future and that the cycle of violence will not last long.
"Anguished to learn about the killing of BJP karyakarta, Shabir Ahmad Bhat by militants in Pulwama (J&K). This act of cowardice is highly condemnable. Extremists cannot stop the youth of Kashmir from choosing a better future for themselves. This cycle of violence won't last long," he tweeted.
Meanwhile, militants set free a cop, Shakoor Parray, who was abducted by militants yesterday from Kumdalan village of south Kashmir's Shopian. Parray suffered a bullet injury on his right arm and has been shifted to hospital. — TNS/PTI