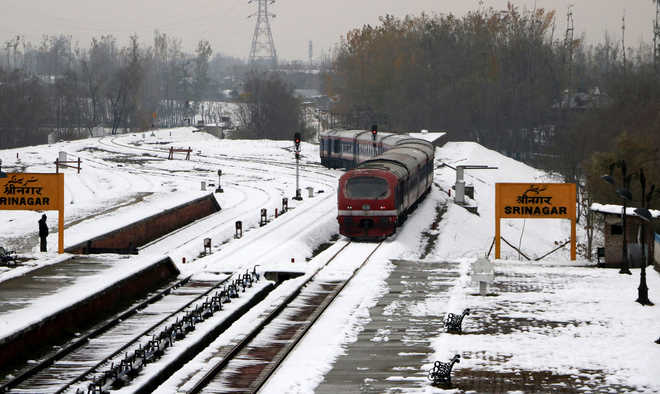 Tribune News Service
Srinagar, November 13
With the prediction of more snowfall from the Weather Department in Kashmir, residents are wary of the ill-preparedness by the authorities as the first snowfall on November 6 put life out of gear in the region and left residents without basic facilities for days together.
The MeT Department has predicted snowfall from November 14 across Kashmir. While the electricity and road clearance is yet to be achieved by the administration after the snowfall last week, the residents fear that the administration might not be prepared for bad weather in the winter, which has already started early this year.
In some areas of north and south Kashmir that witnessed more than one feet of snowfall, the electricity is yet to be restored. The roads in the main city in the region were cleared of snow after 24 hours when more than 10 inches of snow had accumulated making it difficult for emergency services.
"We were supplied electricity after four days for just a few hours," said a resident of Maloora locality.
Another resident of Raj Bagh in the city said after the Union Territory was formed, the difficulties of residents had increased manifold.
"We saw a glimpse of the passive administration during the snowfall. We had no water or electricity for four days and this year, the winter is going to be harsh. We live in the main city, the snow was not cleared for two days imagine the situation in villages where there is no accountability. We are being punished," said Naseer Ahmad, a resident.
Shahid Choudhary, Deputy Commissioner in Srinagar, said the men and machinery had been readied for any eventuality during the snowfall that had been predicted from November 14.
"The field staff has been kept ready and the machinery is also ready for use. Around 6,000 employees will be available besides that additional money has been provided to different departments to meet the needs and restore facilities to residents in Srinagar and elsewhere," the Deputy Commissioner said.
In the Valley, more than 55 power transformers were damaged during the snowfall leaving the residents in darkness. Besides that many power lines were damaged due to the uprooting of trees. There was chaos in all the localities, including in the main city Lal Chowk, where the electricity was restored after three days.
"We have provided additional funds to the Power Department for restoration of these transformers," the official said.
Top Stories