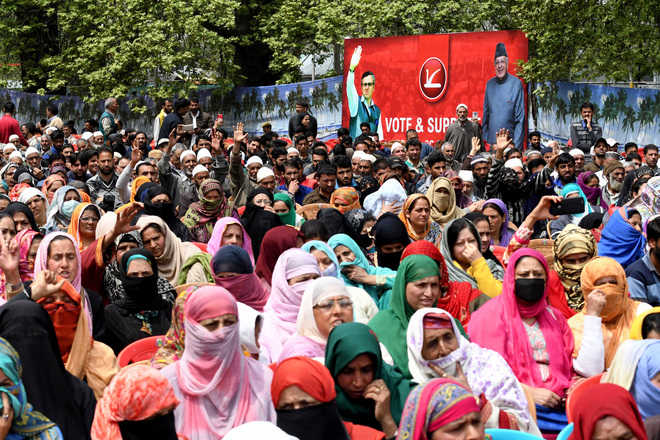 Azhar Qadri
Tribune News Service
Srinagar, April 15
National Conference (NC) president Farooq Abdullah on Monday quoted from Sir Muhammad Iqbal's poem 'Complaint' as he criticised Prime Minister Narendra Modi for failing to win the hearts of the people of the Kashmir valley.
"You could not win our hearts. Hearts are not won by pellet guns, by shutting roads and by doing injustices. You say we are not loyal. Hum wafadar nahin, tum bhi to dildar nahin," Farooq said at the penultimate day of campaigning in Srinagar city.
Farooq, who is the NC candidate from the Srinagar constituency, which will go to the polls on Thursday, also accused the Prime Minister of doing injustice with the state. "Where is the Rs 80,000 crore? Look at our condition, at the condition of our roads, at the condition of our shikarawalas," he said.
"You point a finger at us that we want to disintegrate India. If we had wanted, India would not have existed. Remember that day in 1996 when nobody was ready to walk, it was this man Farooq Abdullah who came out even when my colleagues said we will not contest the election," Farooq said.
The NC leader also criticised the PM for not considering the state as the country's "integral part". "It is a fraud. If this is an integral part, then do justice with us," he said, daring Modi to address a rally in Srinagar like he did in Kathua.