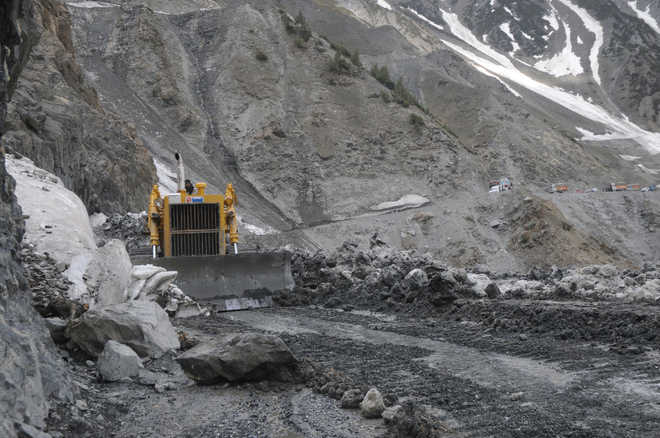 Arteev Sharma
Tribune News Service
Jammu, October 3
Ever since Prime Minister Narendra Modi laid its foundation on May 19 last year, the prestigious Asia's longest bi-directional Zojila tunnel —14.31-km in length — project to have all-weather road connectivity to country's cold desert, Ladakh, has remained a non-starter with the loss of this year's entire working season.
More importantly, the project cost has surged by over 23 per cent due to delay in the start of the work, forcing the National Highways and Infrastructure Development Corporation (NHIDCL) to approach the Centre for reviewing its cost and fresh approval.
"No bidder has agreed to work on the present cost of the project, resulting in delay in its start. Thereafter, the project's revised cost committee reviewed the total cost of the project and recommended an increase of over 23 per cent in its cost. For any cost escalation above 20 per cent, we have to seek fresh approval from the Cabinet Committee on Economic Affairs. At present, the proposal of the cost review has been lying with the Union Ministry of Road Transport and Highways," a senior official of the NHIDCL told The Tribune, wishing not to be named.
Earlier, the total capital cost of the Zojila project was Rs 6808.69 crore which has escalated by Rs 1,600 crore to about Rs 8,400 crore. The construction period of the project was 2,555 days ie seven years which was to be reckoned from the date of the commencement of the construction.
"Given the inordinate delay due to technical issues and incomplete tendering process, we have lost this year's entire working season as the winters have set in and it will be near impossible to undertake work amid hostile weather conditions. We are awaiting clearance from the Centre," the official said.
Zojila, considered as a lynchpin of all-weather connectivity to Ladakh, is situated at an altitude of 11,578 feet on the Srinagar-Kargil-Leh highway and is the fourth highest Pass in the country.
The proposed Zojila tunnel will connect Kashmir's Sonmarg with the Gumri area in Ladakh's Kargil district and will reduce the travel time to cross Zojila from 3.5 hours to just 15 minutes. Ladakh remains cut off from rest of the country for almost six months in a year due to heavy snowfall on its two highways.
The project holds strategic and socio-economic importance for the Ladakh region. It will help India keep a check on the growing influence of aggressive China and Pakistan in Ladakh.
On January 15 this year, the Centre had terminated contract with the beleaguered executing agency, M/S IL&FS Transportation Networks Ltd which had executed nearly 7 to 10 per cent ground work on the project. The IL&FS was awarded contract on January 19, 2018.