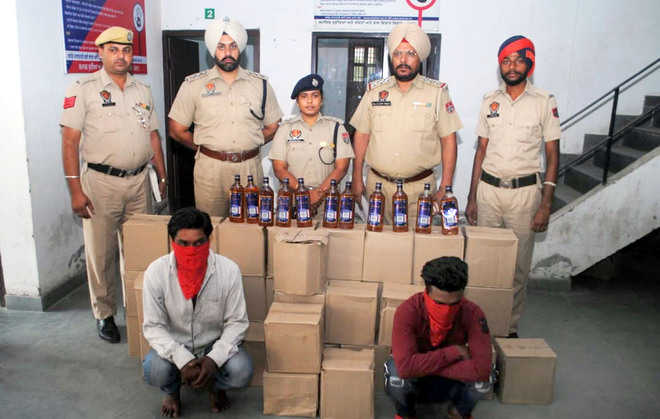 Tribune News Service
Jalandhar, October 21
In a joint raid by the Rama Mandi police and the Excise Department on Monday, two persons were arrested for supplying illicit liquor in the city. A total of 215 cartons of illicit foreign brand liquor supplied from Chandigarh were also recovered from their possession.
ADCP city 1 Sudha Sudarvilli said ASI Barjinder Kumar had received information that Arwinder Singh, alias Sonu, resident of Aman Nagar, had stored liquor cartons in a large quantity at a godown near JK Dhaba in Succhi village. After raiding the godown, the police found two persons managing the godown, who tried to run after spotting police personnel but were held after a chase.
Those arrested have been identified as Rakesh Kalia and Pawan Kumar, both residents of Aman Nagar. A case under Sections 61, 1 and 14 of the IPC has been registered in this regard.
Meanwhile, Excise Inspector Gautam Gobind and Excise police staff of Jalandhar said the raid was conducted under the directions of ETO Navjot Bharti. They said they had got a tip-off, following which the raid was carried out at 2.15 am. Another suspect Arwinder Singh is still at large.
Top Stories