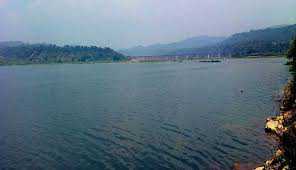 Our Correspondent
Hoshiarpur, September 3
It has been decided by the Bhakra-Beas Management Board (BBMB) to release 26,000 cusecs of water from the Pong Dam. As many as 14,000 cusecs of water will be released through the spillway and 12,000 cusecs of water will be released through the turbine, which is released by the BBMB in routine.
Deputy Commissioner (DC) Isha Kalia said 14,000 cusecs of water would be released in the Beas and 12,000 cusecs in Mukerian Hydel.
The Deputy Commissioner today visited the Pong Dam to take stock of the water level and also held a meeting with BBMB and district officials.
The DC asserted that with the release of water, there would not be any flood-like situation in the district. The water would be released only during the daytime. Today, the water level in the dam was 1,385.96 feet while its having a capacity of 1,400 feet so the water level of the dam is quite low. Hence, there is no need to panic.
She said all arrangements had been completed by the district administration to deal with any flood-like situation. Taking precautions, sector-wise teams had been deployed so that any adverse situation could be dealt with. Fragile villages were constantly being visited by the teams.
The Deputy Commissioner said the fragile villages had been divided according to sectors and the sector- wise teams deployed include officers from the Drainage, Health, Food and Civil Supplies and Animal Husbandry departments. During the previous floods, villages of Dasuya and Mukerian subdivisions were affected, therefore, vigilance has been increased in the fragile villages under these subdivisions. She said the numbers of the district-level flood control rooms were 01882 -220412, 01883 -285024 (Dasuya) and 01883 -246214 (Mukerian).