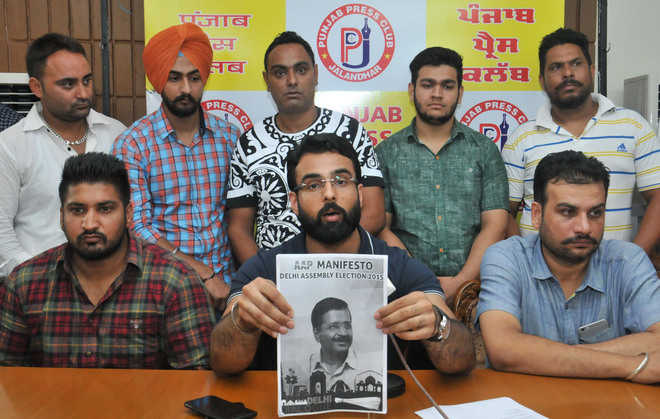 Jalandhar, July 3
The National Student Union of India (NSUI), a unit of the Congress, termed the Aam Aadmi Party (AAP) manifesto for the youth a mere eyewash.
Members of the unit said the promises which AAP national convener Arvind Kejriwal made for the Delhi youth were still pending to be fulfilled and now, Kejriwal was coming to befool the youth of Punjab. "Well, Mr Kejriwal himself has said that it'll be an achievement for him if he can complete even 50 per cent of all the promises he made before elections in 5 years. Looking at how things are going for him, I think it'll be an achievement if he can deliver even 10 per cent of what he promised. No change at all. Delhi is going to remain as it is," said Iqbal Singh Grewal, president, NSUI, Punjab. Grewal said the AAP failed to double the number of drug de-addiction centres in Delhi as mentioned in its manifesto. Leave doubling the number, in fact no anti-drug centre had been opened in Delhi till date.
In terms of employment, the AAP had promised a 3 million sq ft incubation centre for budding entrepreneurs and they miserably failed to even start working on this poll promise, the NSUI president added.
Grewal asserted that the AAP wooed the youth by claiming eight lakh jobs, vocational training, stadiums, 20 new colleges, 500 new schools and Wi-fi across the city but still, nothing happened in this regard. He also said that the AAP had promised security and safety of women in Delhi buses but failed miserably and their claims about installation of CCTV cameras were also a bunch of lies.
"People of Punjab should be wary of the AAP which, like the BJP, does not honour their promises. They do not walk on their talks. We will meet Kejriwal, who is scheduled to visit Jalandhar to deliberate on the issues," the NSUI said. — TNS
Top Stories
Classes 5 & 8 students to be promoted