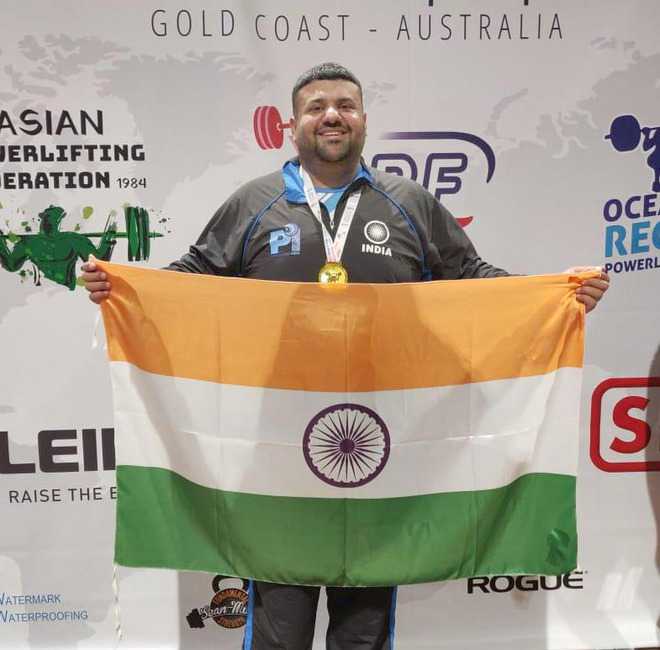 Our Correspondent
Jalandhar, March 27
Ajay Gogna (26), a resident of Bholath, has brought laurels to the state by winning a gold medal at the 2019 Asian Pacific Classic and Equipped Powerlifting and Bench Press Championship held at Gold Coast, Australia, recently.
He bagged the medal in the under 120+ weight category and the championship was organised by Australian Powerlifting Union Limited.
As many as 12 countries, including Sri Lanka, Kazakhstan, Singapore, New Zealand, Hong Kong, Philippines and Japan participated in the championship.
Ajay is a seven-time national champion in powerlifting. Also, last year he won the bronze medal at the Asian Bench press Championship held in Dubai and has won many district and state-level competitions too.
Talking to The Tribune, Ajay said: "I was selected in the under 120+ weight category by the Indian Powerlifting Federation to represent the country in Australia. I feel blessed to have won a gold medal for the nation as it is like a dream come true. Since childhood I wanted to be a powerlifter and now my target is to register my name on the list of world's best powerlifters and set new records.
He said he was given the title of 'strong man of Punjab' by the Punjab Powerlifting Association as he has won many state-level championships.
"I give tips on powerlifting to the youth of my village. I also motivate them to practise any sport of their choice on a daily basis," he said.
Talking about his future plans, Gogna said: "I have been selected for the World Classic and Equipped Bench Press Championship to be held in Tokyo, Japan, from May 18 to 25."
He said he was hoping to bag gold again for the nation in the world championship and make the city, nation and parents proud.
Top Stories