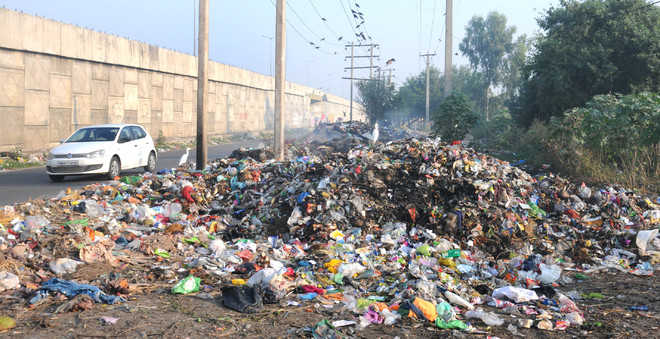 Our Correspondent
Jalandhar, October 22
The Chuggiti road leading to GNDU Regional Campus and other residential colonies belies the tall claims of the civic body's swachhata campaign as half of the stretch has been turned into a dump yard. It has become a nuisance for pedestrians and commuters.
Garbage on the footpath and vacant area along the road has become an eyesore for commuters and residents.
"Garbage, which has covered a considerable portion of the road, stinks so badly that we are worried about the health of our children," said Dr Namrata Joshi, head of the Journalism Department, GNDU Regional Campus. She said the garbage from Ward Nos. 5, 7, 8, 14, 15 and 16 is thrown at the point, but the MC is least bothered to throw it at the dumping site.
A shopkeeper said, "The road leads to a number of residential colonies and the national highway. Traffic jams due to stray cattle is a common site in morning and evening hours. Being one of the busiest roads in the city, it is necessary for the civic body to install a proper garbage bin. Besides, it should ensure timely lifting of garbage. Commuters, especially on two-wheelers, usually cover their faces to save themselves from the dust and a foul smell emanating from the area."
"Animals feed on the garbage littered along roads and bring traffic to a halt. The burning of garbage too causes problems. The stray cattle menace is also posing a threat on the stretch that passes from Chuggiti Chowk to the railway station. Though officials say the issue will be resolved soon, nothing concrete is visible on the ground," said Rakesh, a commuter.
Meanwhile, Chief Sanitary Inspector Soni Gill said, "The MC is taking care of cleanliness and collecting garbage from every corner of the city. If residents are facing sanitary problems, we will get it checked and ensure the cleaning of the area."
Top Stories