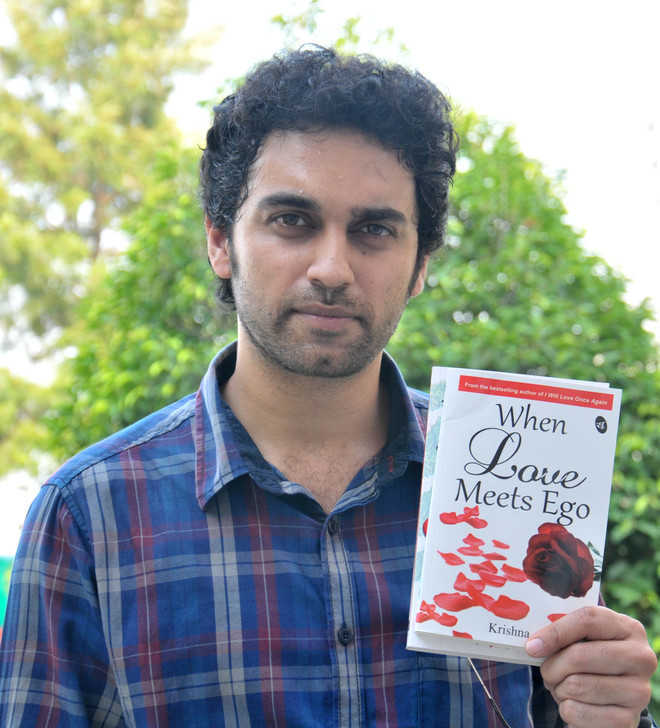 Tribune News Service
Jalandhar, September 6
After the success of best-seller 'I will love once again', technocrat-turned-novelist from the city, Deepak Verma (pen name Krishna), has released his other work 'When Love Meets Ego'.
He describes his new creation, "It's a continuous journey from 'I will love once again' where the protagonist was in search of love. 'When Love Meets Ego' is a journey of a protagonist where he switches his thoughts to find a time-pass relationship rather than love."
He saidm, "How his journey starts and where it leads to when he is caught between love and time-pass and meets people with bruised egos. It's a representation of a modern relationship where the youth today are following the concept of 'If you hurt me then I will hurt someone else'."
Krishna is working as business analyst with an MNC in Mumbai. He is engaged into writing for crime series for various production house.
Acting being his passion, he is working with a theatre group in Mumbai and recently did a play called 'Court Martial'.
A B Tech (IT) 2008 passout from DAV Institute of Engineering and Technology, Jalandhar, Deepak says he was trying to popularise his book through his blog www.krishnavyukta.com and his Facebook and Twitter links.
Top News
The former military ruler had left Pakistan in March 2016 fo...
After his failed misadventure in Kargil, Musharraf deposed t...
Military shoots down the surveillance balloon in Atlantic Oc...
The incident took place on Friday when Kambli reached his fl...
Dearness allowance for employees and pensioners are worked o...