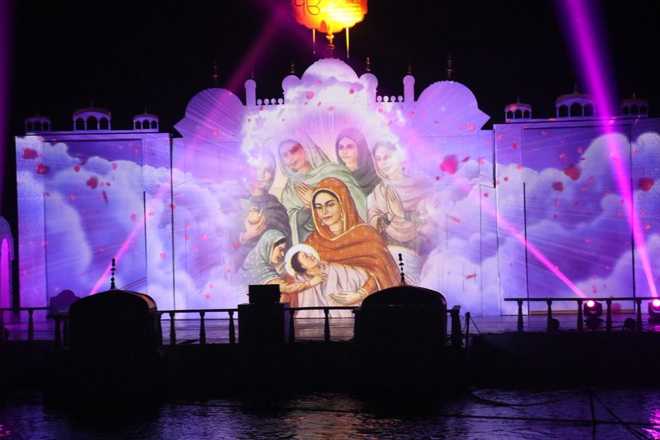 Our Correspondent
Hoshiarpur, October 20
The second day of Floating Multimedia Light and Sound Show, dedicated to the 550th Parkash Purb of Guru Nanak Dev, being held on the Beas river near Terkiana village was based upon Guru Nanak's preaching to save air, water and earth. The show ended on Sunday giving the clarion call to save air, water and earth.
The next phase of the show in the district would be held at Gandhuwal village near Tanda Urmar on October 23 and 24. Owing to the wider publicity done for the show and the arrangements made to facilitate the people to visit the venue, people turned up in large numbers to know about the life and philosophy of Guru Nanak Dev through the latest technology.
Deputy Commissioner Isha Kalia said Guru Nanak Dev had accorded a sacred and special status to air, water and earth in Gurbani and it was the collective responsibility of us all to strive towards conserving these precious resources that mother nature had bestowed on us. As many as 550 saplings were being planted in every village so as to practically follow Guru Nanak Dev's teachings.
A large gathering of people came to witness the four shows held in these two days. Those present on the occasion were SDM Jyoti Bala, DSP DS Khakh, former engineer (Drainage) JS Kalsi and representatives of various social and religious organisations..