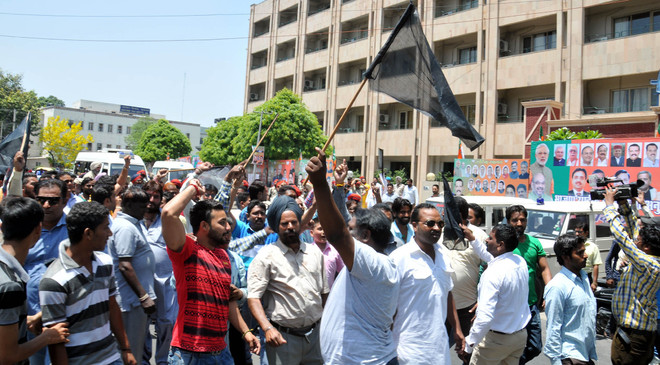 Rachna Khaira
Tribune News Service
Jalandhar, May 25
The Shiromani Akali Dal's (SAD) prejudice over the VIP treatment extended to BJP leaders in the state came to the fore recently during the BJP SC Morcha national executive meeting held in the city when two senior BJP Cabinet ministers, including Urban Development Minister Venkaiah Naidu and Minister for Social Justice and Empowerment Thawar Chand Gehlot, were repeatedly caught in a traffic jam on their way to the meeting venue.
While the roads go empty during visits of Chief Minister Parkash Singh Badal and Deputy Chief Minister Sukhbir Badal, the two union ministers were seen waiting at the red lights on their way to the meeting venue. Also, their cavalcades got stuck in the traffic jam immediately after entering the city at Rama Mandi. This, too, had happened when the Ministry of Home Affairs had issued special route advisory to the City Police Commissionerate days ahead of the visit of the two ministers to attend the event.
Witnesses claimed that while the cavalcades were stuck in a traffic jam at Rama Mandi and the BMC, they even had to wait at a majority of the red lights that had fallen on the way to the meeting venue, despite the presence of traffic police personnel at the spots.
Mayor Sunil Jyoti was seen repeatedly getting down from his vehicle to clear the way for the cavalcade and was also seen struggling with a policeman who after failing to recognise the elite guests sitting inside the cars refused to remove the barricade for their cavalcade installed near the meeting venue.
Though none of the BJP leaders could openly slam the ruling party, they, behind closed doors, even criticised the Home Department under the direct control of the Deputy Chief Minister for failing to provide adequate security at the venue itself.
One of the senior BJP leaders said though ample frisking was been done during any of the meeting attended by the Chief Minister or the Deputy Chief Minister, no such practice was followed at the meeting venue of the national executive of the SC Morcha held at a private hotel in the city. Even the hotel staff and guests were also found roaming next to the two cabinet ministers during the event.
While refuting the charges, DCP Rajinder Singh said the route plan and ample security arrangements at the venue were in place during the two-day event held in the city. He also revealed that no changes were made in the traffic arrangements en route the venue.
"Though no traffic jam was reported en route, the cavalcade did wait at red lights on the way to the venue," said the DCP.
He said the police had taken all security precautions as per the advisory issued by Ministry of Home Affairs and even the US Ambassador to India Richard Rahul Verma also had to follow traffic lights during his recent visit to the city, despite coming under the Z-plus security cover.