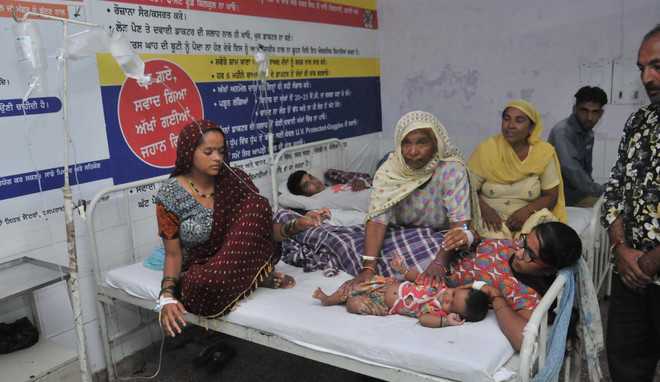 Aparna Banerji
Tribune News Service
Jalandhar, August 24
After three deaths in the district due to Dengue, the Civil Hospital of Jalandhar has now been flooded with diarrhoea and gastroenteritis patients in view of the ongoing rainy season.
After two more deaths from dengue in the district— of Mahinder Kaur (68) from Model Town at PGI in Chandigarh and Sohan Lal (48) from Brahm Shreshtha village, Kala Bakra, at DMCH in Ludhiana—the dengue toll and the rainy season being in full flow has raised concerns over whether the district will safely make it through the monsoons this year.
However, the aggressive challaning drives to do way with breeding larvae in various residential areas is one solace for the residents to expect a more effective check on the Dengue situation compared to previous years.
So far, as many as 24 dengue patients have been reported in the district. But with challaning drives announced by the Health Department, as many as 35 establishments have also been challaned by joint health and MC teams after dengue larvae were found breeding at these establishments.
While the teams challaned 21 establishments last Friday, the once in a week drive has now been made a daily affair due to the peak season and the concerns regarding breeding of larvae. Teams of the departments also raided many establishments today challaning 14 of them.
Anti-larval teams today visited the Model Town, Maqsoodan, Mota Singh Nagar areas visiting 393 homes. Many terraces of houses or other establishments were also checked and emptied of accumulating rainwater to ensure that dengue mosquitoes are not allowed to breed in these spaces.
Meanwhile, even as dengue already remains a concern, diarrhoea and viral fever cases in the district have also seen a massive surge. As many as 100 to 110 patients admitted at the male, female and ENT wards at the Civil Hospital are suffering from these diseases —majority of these being viral fever cases. While the male and female general wards are filled to capacity, patients have also spilled over to the ENT ward to accommodate patients.
Dr Tarsem Singh said, "We are getting about five to seven diarrhoea patients per day but the substantive number is that of viral fever patients. There is just a surge of seasonal ailments patients. However, the number is lesser as compared to the reportage during rainy season in previous years."
Top Stories
Relief, ecstasy & vindication | Hockey team rewrites history