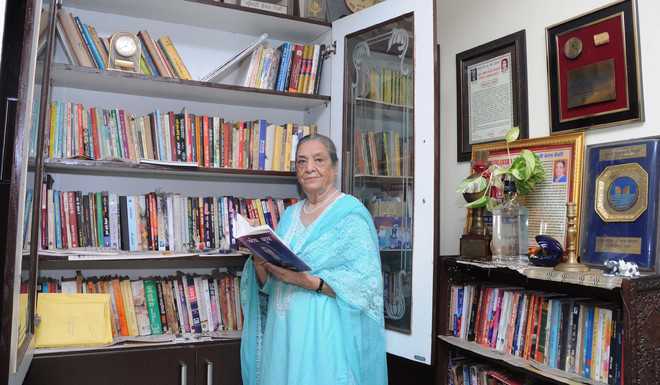 Aakanksha N Bhardwaj
Tribune News Service
Jalandhar, September 17
There is no stopping octogenarian Chandan Negi who has been suffering from heart-related ailment for the past two years.
Recipient of several prominent awards, it is her zeal and love towards literature that keep her going. When The Tribune team visited her, Negi had donned a blue suit, along with a beautiful pearl neck-piece. She never let the health problem getting visible on her face. She has written 10 stories and six novels. Negi, who is 83-year-old, keeps her occupied by thinking about new and upcoming books and topics. She is a recipient of the President award along with the honour from the Language Department among others. Nowadays, Negi is residing in the city.
While talking to The Tribune, she shared that she never had any interest in literature or writing. It was in 1970, when she was around 45, she joined the All India Radio in Jammu as a Punjabi programme presenter, and got introduced to translating, dramatising and writing. Afterwards, she developed a love for literature. In the radio, Negi also presented a propaganda programme, 'Salma di daak', in 1971. She reminisced the time when doyens of literature appreciated her first story which she had written while participating in a conference that was attended by prominent littérateurs.
"I did not know that I was going to narrate my story in front of legends. I narrated the story of an old lady and her hidden feelings and desires. The moment I completed the story, I was showered by compliments. 'Ek Punjabi kahani is level te pahunch chuki hai, oh vi ik navi kahanikar di? Main salaam karda haan' and 'Lut litta tusi', such were the compliments which I received from Gurmukh Singh Musafir and Sant Singh Sekhon," she said.
"That was the time when I decided to move ahead with this," she added.
'Jal Bin Kumbh', 'Kalar Kedi Chapri', 'Kanak Kamani' (English translation: 'The second Fiddle also got published'), 'Mann Ki Birtha', 'Sooke Kasht' and 'Andhkoop' are her novels which were appreciated. Her novel 'Kalar Kedi Chapri' already got published in 22 languages. A sitar player, Negi described that she was a naughty and bubbly teenaged girl.
Never wrote fiction
"I never write fiction. All my writings are inspired from real-life incidents. Before I start writing, I become, and feel the emotions of the character that is how I do justice with my stories and characters," Negi said.
"I would never be able to write properly if I don't put myself in the position of the character about whom I am going to write the story on," she said. She shared numerous incidents that happened in her life eventually gave her subjects to write on.
"Even a single sentence can prompt me to think and write," the writer said.
Negi also shared that she feels emotionally connected with sad characters.
What next?
Though she is not well, she said every day she write two-three lines which come to her mind. "I am now writing 'Ursa', which will be completed soon, she signed off.
Top Stories