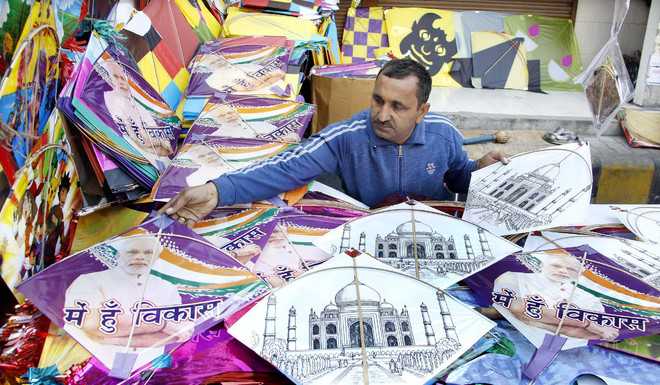 Avneet Kaur
Jalandhar, January 19
Kite sellers are doing a brisk business despite 5 per cent GST applicable on kites. Although kites made in China have flooded the markets this season too, Indian kites remain the favourite among enthusiasts.
As per the demand, kites based on popular cartoon characters, Whatsapp emojis, "Padmavati", PM Narendra Modi's "Make in India" programme as well those depicting heritage institutions of the country are finding many takers. These kites are available between Rs 5 and Rs 500 anywhere in the town.
Though kites of different shapes, presenting characters like Doraemon, Angry Birds, Mickey Mouse and Bollywood stars, are available, the new trend which is attracting youths and children are kites having Whatsapp emoticons and those designed with birds or eagle shapes.
A shopkeeper who has been selling kites since the days of the Partition says that Indian kites have no comparison. Praveen Kumar, who owns a shop in the Mai Hiran Gate here, said: "We have been selling kites for long. Although Chinese kites have made their appearance in the Indian markets in the past few years, these cannot replace Indian kites. Even the GST had been added, but those interested in buying kites don't go for how much it costs"
His son Monu said: "Earlier, we used to have a small wooden kiosk on the roadside, where my father and uncle used to sell kites and kite strings. Their persistent efforts bore fruit and now we own this big shop. We are earning pretty good from the business", he added.
Another interesting thing which is grabbing many eyeballs in the market this season is miniature plastic kites, especially designed for children. "These kites available in sizes ranging from 6 inches to 1.5 feet are in demand too. Being supplied from Ahmedabad and Jaipur, these kites are available in different shapes", said Kamood, a kite seller.
A young 19-year-old Arshpreet Singh who was spotted buying a kite having the poster of "Padmavati" movie said, "My only reason to buy this kite was to tell all those states who are banning the movie that freedom of speech and expression prevails in India and it cannot be hampered by any political group or party."
Another student Priyank said, "Basant Panchmi is my favourite festival as it brightens up the sky with colourful kites. Like every season, there are many kites in different styles and characters available, but the most soothing ones to fly and see flying up are those made up of traditional Indian materials and also having that pentagon-type structure."