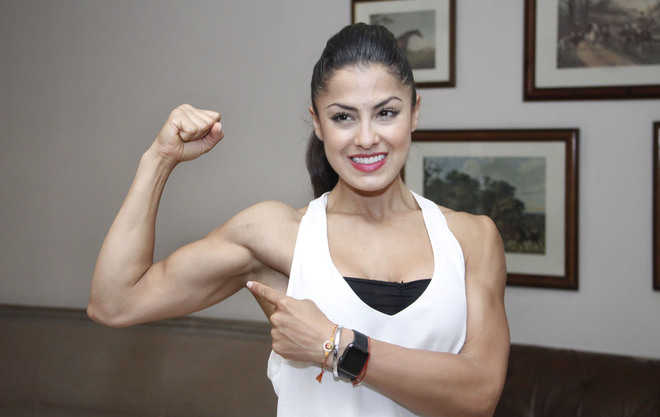 Our Correspondent
Jalandhar, August 7
Sharing the importance of fitness with people and teaching them that having a healthy lifestyle is not that difficult is what I enjoy doing on a daily basis and consider my only mission, said Christina Silva, famous fitness diva from London, here today.
She has come to India and Punjab for the first time to promote a Physique Global event held in the city today.
The 29-year-old Christina has won many titles. She had won WBFF - Bikini Diva and Fitness Diva held in London in 2015. She has also achieved the title of WBFF - Bikini Diva World Championship that was held in Las Vegas in 2015.
"Taking care of our body can give us a better quality of life. Good diet and training can improve not just how we look but how we feel. I really think that changing our mentalities could change the world," Christina said.
Addressing the media, she said, "Setting up goals is probably the most important thing in one's life. Deciding your goals, you get an idea where you want to go and what you want."
"Indian culture had not encouraged women to live healthier and fitter. Even till now, the fitness industry in India is dominated by males and most women feel uncomfortable while going to a gym," she added.
"In foreign nations, the women are getting advanced each day and understand very well what is important for them. On the contrary, Indian women due to insecurities, hesitation and other related factors de-motivate themselves and adopt a poor lifestyle," she said.
Encouraging girls and women, she said, "Let's throw out all our insecurities and make up our mind to achieve our fitness goals. Once you start following your goals, you'll feel confident and definitely realise the benefits of being fit later in your life."