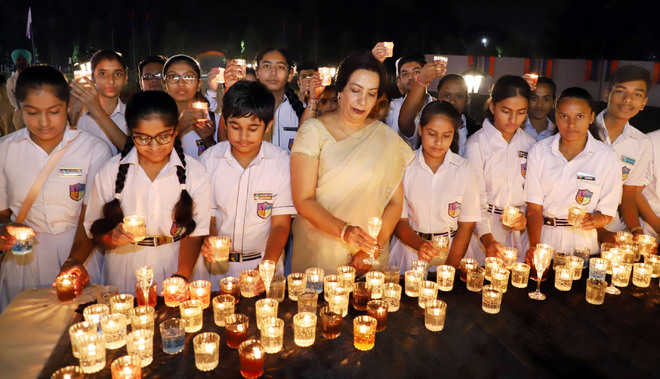 Tribune News Service
Jalandhar, October 20
On the eve of Police Martyrs' Day, 60th Martyrs' Day was observed today on the campus of PAP Complex here. Police DAV Public School, Jalandhar, organised the event.
The state-level event was attended by Dinkar Gupta, Director General of Police (DGP) and other senior police officials.
Homage was paid to the martyrs through patriotic songs prepared by the music department of the school, A Punjabi poem was recited by Aditya Nagpaland and a speech was given by Armandeep. A self-composed poem was recited by Kanwalpreet, a teacher of the school. A dance was also presented. A candlelight march was also taken out by students and teachers of the school.
Later, the DGP, along with other officials and principal of the school Rashmi Vij, paid homage to the martyrs.
A flying lantern was also released to mark the occasion by the DGP.
Top Stories