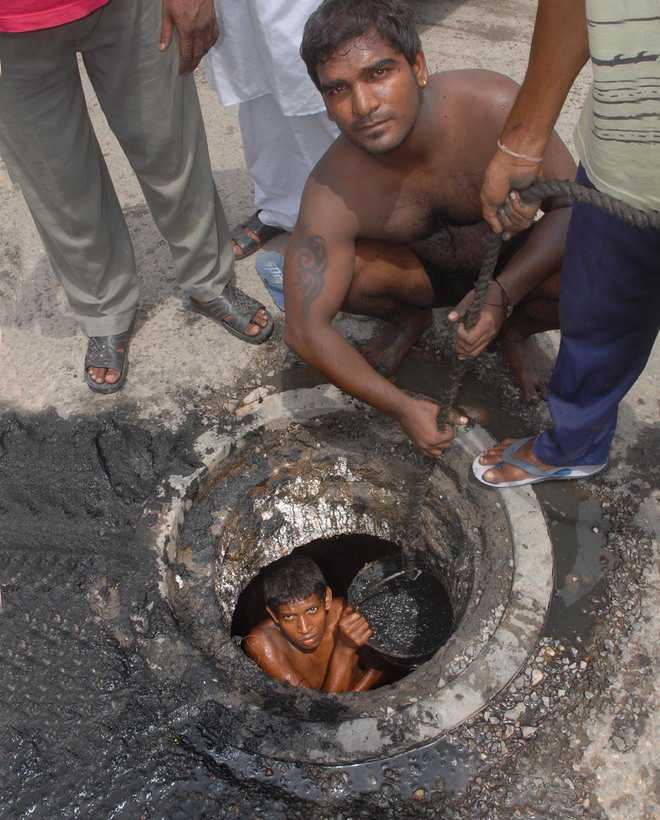 Rachna Khaira
Tribune News Service
Jalandhar, May 15
Following the directions of the Ministry of Social Justice and Empowerment to conduct a nationwide survey to identify manual scavengers for rehabilitation, the Municipal Corporation of Jalandhar (MCJ) has begun to look for the sanitation workers who used to do manual scavenging in the city.
As per the socio economic census 2011 and also a recent report placed in the Lok Sabha, there are around 90 manual scavengers working in Punjab.
According to Assistant health officer Dr Srikrishan, though there were workers who used to do manual scavenging in 2013 in the city, after the enactment of the Manual Scavengers Act, the practice was abolished.
"During that time, manual scavenging was there but confined to only the cantonment area and not in the city," said Dr Sri Krishan.
According to official information, 31 sewer men have died in the state while cleaning sewers since 1993. The fact is that many more persons have lost their lives while cleaning sewers manually. Whenever any sewer man dies, the authorities concerned assure workers that they would take necessary steps, but nothing is done in this regard.
As per the rehabilitation programme launched by the Ministry of Social Justice and Empowerment, any person who had done manual scavenging in the past will be given a one-time rehabilitation grant of Rs 40,000.
Those who want to benefit from the programme can approach the MC office on any working day.
Overwhelming stink
The Census 2011 says there are over 2.6 million dry latrines in the country. There are over 13 lakh toilets where human excreta is flushed in open drains, nearly 8 lakh dry latrines where human excreta is cleaned manually. And 73% of these are in rural and 27% in urban areas. An RTI query reveals that in Punjab, where about 32% of the population is of Dalits, 20 persons have died cleaning sewers in Ludhiana, Amritsar, Jalandhar, Patiala and Barnala in the last decade. In 1993, manual scavenging was banned. The 2013 Manual Scavengers Act sought to reinforce the ban by prohibiting manual scavenging in all forms.