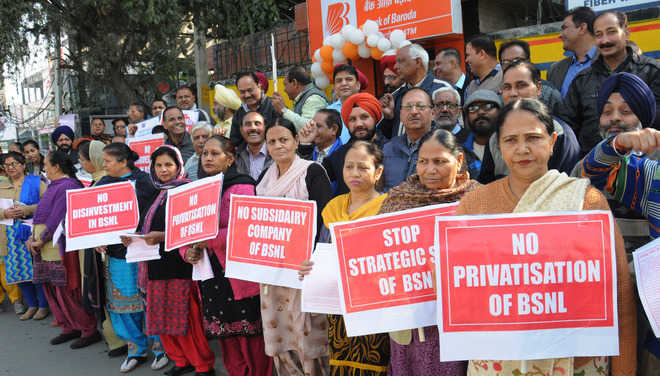 Tribune News Service
Jalandhar, November 23
Members of the All Unions and Associations of Bharat Sanchar Nigam Limited (BSNL) staged a protest here today.
They protested against the formation of a separate subsidiary company. They were also demanding the implementation of third pay revision.
The members, led by Ashok Verma, chairman of the United Forum of All Unions and Associations; and Romesh Chander, convener of the United Forum of BSNL, said since the BSNL was on a revival mode, the employees needed to be motivated.
"The employees will not be eligible for the third pay revision due to the affordability clause even after a span of 10 years whereas no such condition exists for other government employees, banking sector employees and even those from the insurance sector", they said, demanding the revision with effect from January 1, 2017.
The members also said as the BSNL had already 66,000 mobile towers and the move to form a separate tower subsidiary company would decelerate its growth. They said it would lead to disinvestment and eventually privatisation of the most strategic and prestigious community and public sector union.
"Currently, the BSNL is effectively maintaining telecom policies and competitively defeating cartelisation of private operators. It should not be allowed to get disintegrated in the name of monetisation of assets. The move should be immediately abandoned," they demanded.
Top News
Protesters call for economic boycott from Monday to Wednesda...
National capital's 24-hour average air quality index recorde...
The counting of votes will take place on December 7
French Ambassador Emmanuel Lenain offers full support to Ind...
Spent around 45 minutes with his mother before leaving for t...