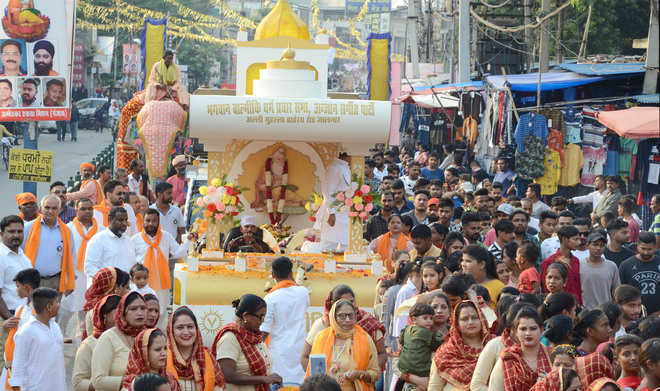 Tribune News Service
Jalandhar, October 12
A state-level function to commemorate the Parkash Utsav of Bhagwan Valmiki will be held at DAVIET on Sunday.
A shobha yatra was taken out in the city ahead of the Valmiki Jayanti.
While Cabinet Minister Sadhu Singh Dharamsot will attend the state-level function in the evening on Sunday, religious events will be held at Valmiki temples across the city.
Meanwhile, chairing a meeting here at DAVIET, Deputy Commissioner Varinder Kumar Sharma and Commissioner of Police Gurpreet Singh Bhullar finalised all the modalities of the event. Security checks were also held at the hostel of DAVIET and the rest of the campus ahead of the minister's visit.
The DC and the Commissioner of Police said participation of the people from different walks of life was expected on the event. Officials stayed on the campus late into the evening to ensure proper security for the event.
Meanwhile, Valmiki community leader Chandan Grewal said, "Our events will be marked by characteristic festivities on Sunday. However, I shall not be visiting the state-level event. We would ask the government to lend ear to the genuine grievances of the community on the occasion, especially the provision of post-matric scholarship scheme."
During the meeting at DAVIET, Additional Deputy Commissioner Jasbir Singh, DCP Gurmeet Singh, Sub-Divisional Magistrates Rahul Sindhu, Sanjiv Sharma and Dr Jai Inder Singh, Joint Commissioner, Municipal Corporation, Jalandhar, Harcharan Singh and District Education Officer Harinder, among others, were present.