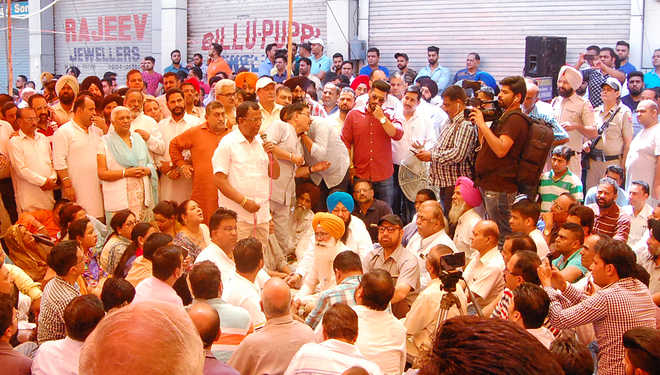 Deepkamal Kaur
Tribune News Service
Jalandhar, April 25
The move by the Phagwara MLA Som Parkash to join a dharna of the General Samaj Manch in the city's market here on Wednesday did not go down well with the Dalit community that he represents.
Since the beginning of the protests about 10 days ago, Som Parkash has been maintaining, "I am a Dalit first and then a BJP leader." But his move today invited the wrath of local leaders of all parties who issued statements against him. There had been allegations against him that he and his party had been supporting the Hindu activists, BJP and RSS workers who had been booked by the police.
"By joining the General Samaj Manch protest, Som Parkash proved his loyalties with the BJP and the RSS. There he also raised the issue of my arrest. So, it clearly means that he is using the protests to fuel hatred against me and appease his party leaders," said Lok Insaaf Party leader Jarnail Nangal, adding, "I really fail to understand the MLA's double standard. First, he became member of the peace committee, then took out a peace march in the city and at the fag end joined one group and gave speeches when everything was getting settled."
Even former Congress minister Joginder Mann showed his angst against Som Parkash. "He probably is upset over Jarnail Nangal joining me in giving memorandum to the Chief Minister. The whole meeting was planned by the higher-ups in the state government. He had been called for he was one of the aggrieved members of the community," he said.
Som Parkash, however, still maintains that he has not taken any sides, "Since I am the area MLA, I represent everyone. I did not go and support anyone. I just went there and told them that we should all make efforts to restore peace in the city."
Top News
Hundreds are still believed to be trapped under rubble, and ...
Chances of Parliament taking up a discussion on Motion of Th...
A Muslim man alleged he was assaulted and abused in the name...
Frank Hoogerbeets describes himself one having 'utmost respe...
Will be produced before the competent court in Mohali on Tue...