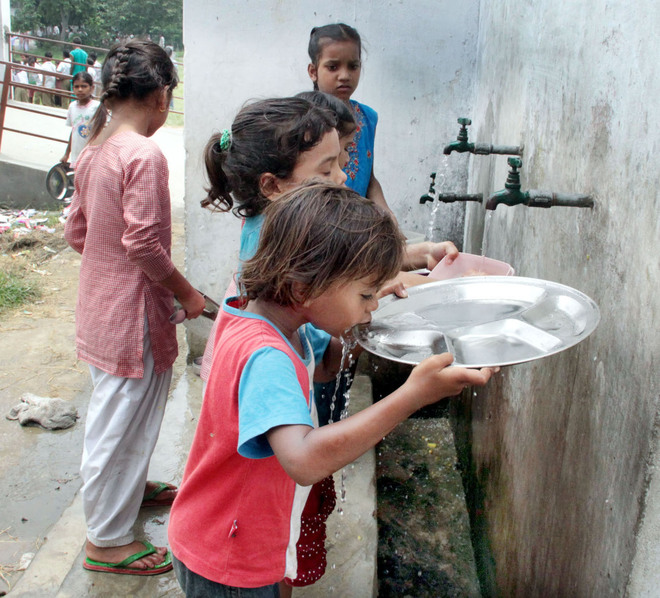 Aparna Banerji
Tribune News Service
Jalandhar, April 2
A whopping 24 water samples taken from across schools in the district have been reported to be highly contaminated as per statistics provided by the Health Department.
Putting the lives of thousands of students studying in primary schools at risk, the health and water supply departments watch on as students between ages six and 14 consume the highly contaminated water across the district.
Of the 24 failed samples, as many as 16 are from primary and elementary schools alone.
The contamination of the water is bacteriological in nature since they have been carried out by health inspectors under the vector-borne diseases department with H2S kits. All these failed samples of the health department have officially been put under the "highly contaminated" category. Which means the water isn't only unfit for human consumption but can also give rise to various disease among the students (and staff) consuming it.
Of the 136 samples taken until the first week of March this year, as many as 39 samples in the district have failed and of these, a whopping 24 were from schools alone, most of them rural and primary.
Taken from tap water supply (or 1 or 2 per cent from submersible pumps) of various schools in the district, a majority of these samples have failed in rural schools with all samples of some villages reported to be contaminated.
Water supply at all government schools, both primary and high, like Dakoha, Raipur Rasoolpur and Jandu Singha have been found to be highly contaminated.
Samples from all three - Government High School, Primary Girls and Boys - schools at Jandu Singha have come out highly contaminated, those from both the government - high and primary - schools at Raipur Rasoolpur and Dakoha have also come out highly contaminated.
Among urban schools, so far, the water samples at Government Primary School Sunder Nagar and Vimal Model School, Avtar Nagar have been highly contaminated. These are the only urban schools - among the 24 failed samples this year – where samples have failed.
Among the rural schools, samples at Government Primary Schools at Dakoha (2), Talwan, Semi, Muzaffarpur (elementary school), Raipur Rasoolpur (boys and girls), Jandu Singha (boys and girls), Kahanpur, Adampur, Fatehpur, Bulowal, Rani Bhatti, Jallowal, Sanghowal (elementary school), Budhanwal, Government Middle School at Thanda, Government High Schools at Sangh Dhesian and Dakoha (2), Government Senior Secondary School at Sofi Pind and Khalsa Public School Khehra Majha have tested highly contaminated.
Even though across these schools students continue to drink the contaminated water, the health authorities merely say they have alerted the school heads and the departments concerned.
Civil Surgeon Dr RL Bassan said, "We have immediately alerted the school authorities regarding the failed samples and the departments concerned regarding the failed samples. Besides, we have also ensured the chlorination of water at the said schools. Barring that, we can't do anymore because the departments concerned are supposed to take action to clean the water of the impurities."
Interestingly, while the Superintending Engineer of the Water Supply and Sanitation Department, Jalandhar, Sarvjit Singh Riar, retired on March 31, the new official appointed in his place hasn't joined so far.
Since all samples had been taken during his tenure, Riar said, "If the samples' failures are bacteriological, we shall conduct super chlorination at all these schools and re-sampling shall also be done in all these institutions. The chlorination shall be done from the source to ensure the water is cleansed. Meanwhile, we do conduct regular chlorination at schools to do away with bacteria and contaminating elements."
Top News
Lhonak lake breaches banks after cloudburst, triggering mass...
About unifying the Armed Forces: A theatre command entails h...
Third party leader to be arrested | BJP says Kejriwal 'real ...
Slams arbitrary exercise of powers under PMLA