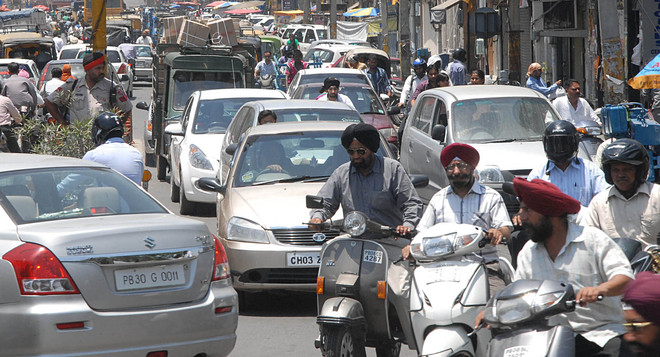 Rachna Khaira
Tribune News Service
Jalandhar, August 20
With no public transport available in the city, the traffic infrastructure has taken a toll by around 10 lakh private vehicles on the city roads every day.
Though with Jalandhar getting the cleanest city tag in the state, city residents too have raised their aspirations from the district administration and have now demanded a public friendly transportation system in the city.
Earlier, around 8,000 people used to travel in the city through city bus service buses every day. With no bus service to move inside the city, most of the load has now come down on the private vehicles and the auto rickshaws hence further leading to the increase in traffic congestion and pollution in the city.
Rajinder Singh, a retired government employee,said the district administration has not been able to keep pace with the rapid increase in demand over the past few decades. "Bus services in particular have deteriorated and passengers have turned to personalised modes and intermediate public transport (IPT) such as auto rickshaws, jeeps, taxi, tempos, mini buses etc, adding to traffic congestion and a steep rise in the air pollution," said Singh. He said lack of bus service has indeed put a lot of pressure on the already dilapidated city roads and there has been a manifold increase in the number of road accidents in the last few months.
"Here we have a situation where roads are dug up and there is no time frame when it will be restored to its present condition. There is constant digging of roads by various utility departments such as sewage, telephone, road construction etc and often a mismatch in the digging and repair timings leads to disturbance in the traffic movement. Then is there is the perennial issue of encroachment on every road in the city adding to further congestion," said Gautam Dheer, a resident of Basti Bawa Khel. He said the individual vehicles plying on the city roads under such circumstances have put the life of the commuters under extreme danger.
Although in January last year, the state government had floated a proposal under the Jawaharlal Nehru National Urban Renewal Mission (JNNURM) to the Ministry of Urban Development for allotting 127 buses for the city but then the Punjab and Haryana high court to keep the air pollution under check directed Jalandhar Bus Transport Service to switch to CNG and allowed a dispenser to be installed at Lamba Pind on the national highway-1 here.
Even now also the Municipal Corporation of Jalandhar has floated a proposal of around 46 buses under the JNNURM project to the Ministry of Urban development but due to the non availability of the CNG in the state, the project has failed to see the light of the day.