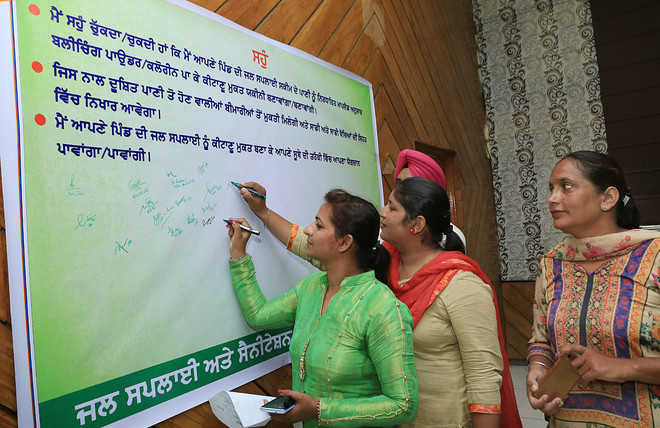 Tribune News Service
Jalandhar, July 13
To provide basic information about safe and potable water in the villages, a workshop on 'Disinfection of drinking water' was organised. The seminar was attended by SDOs, JEs, Sarpanches and pump operators from Jalandhar and Kapurthala districts. It was for the first time that such a workshop was organised to reach people at the grassroots.
Presiding over the function, ADC (D) Girish Dyalan said availability of safe drinking water to every citizen is a moral responsibility and to meet that, the water supply and sanitation department should launch an awareness campaign in the villages along with the Health Department.
Dyalan said disinfecting drinking water is the need of the hour as transmission of bacteria, virus and amoebic cysts through water are causing major disease outbreaks these days.
Besides, water-borne diseases associated with infected water are typhoid, cholera, paratyphoid, bacillary dysentery and infectious hepatitis (jaundice) and poliomyelitis (Polio). Chlorine in its various forms is almost universally used to disinfect water.
Executive Engineer Kulbir Singh Saini said though there are many methods of disinfection, chlorine is almost universally used to disinfect water in its various forms. "It is cheap, reliable and fulfills the above properties," he said.
Saini asked the employees of the department to check leakage as water in the distribution system can get contaminated when the pipes become dry due to intermittent supply. "Illegal tapping of water line and negligence in maintenance procedures also lead to contamination of water in the distribution system," he added.
The employees were also made to take an oath that they will work hard to take care of the health of the people.