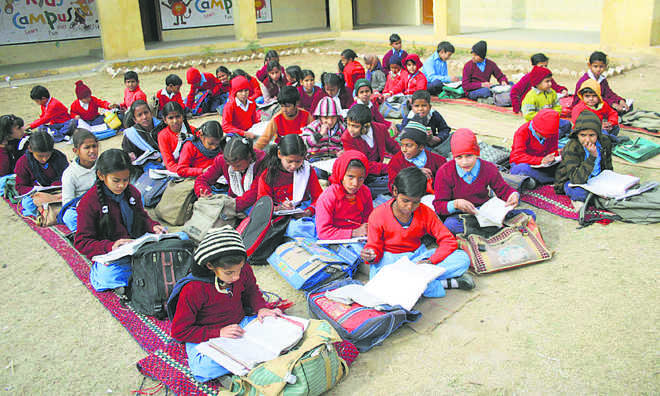 laxmi@tribune.com
Vikas Sharma
Tribune News Service
Jammu, August 19
In an effort to ensure completion of syllabus on time and academic excellence, the Directorate of School Education Jammu (DSEJ) has instructed all government schools in the Jammu region to follow its academic calendar prepared by the State Institute of Education (SIE), Jammu.
Sources said the academic calendar was introduced after it was observed that a proper and uniform calendar in respect to the academic curriculum was not being followed at the government schools, which was directly affecting the academic performance of students in these schools.
They further said the syllabi of many subjects up to Class X remained incomplete that eventually resulted in poor performance of students in Class X board exams as well as in other classes. The academic calendar has been prepared for both summer and winter zones of Jammu division.
"A need has been felt to have uniform academic calendar throughout Jammu province that prescribes timeline for the completion of syllabi within reasonable period of time and also to serve as a planning document for all stakeholders, including students, teachers and monitoring teams", a DSEJ officer said.
"It is mandatory for all government schools across the region to implement it properly. The calendar also includes co-curricular activities like counselling, cultural, environmental awareness, sports activities and celebration of important days/occasions, which will be carried out during the year by the schools on dates as per their choice and convenience", the officer said.
However, to monitor the deputation of teachers/masters/lecturers etc without causing any loss to the academic process, the SIE will ensure that all deputations on training will be processed through the online mode only.
No Chief Education Officer (CEO)/District Institute of Education and Training (DIET) Principal/Zonal Education Officer (ZEO) will depute any teacher for any training without the approval of the Principal, SIE, who in turn will keep the school directorate informed.
It is the duty of the head of the institutions to ensure that when any teacher is deputed for training, he/she will be relieved only after an internal arrangement is made for covering the class work allotted to that teacher.