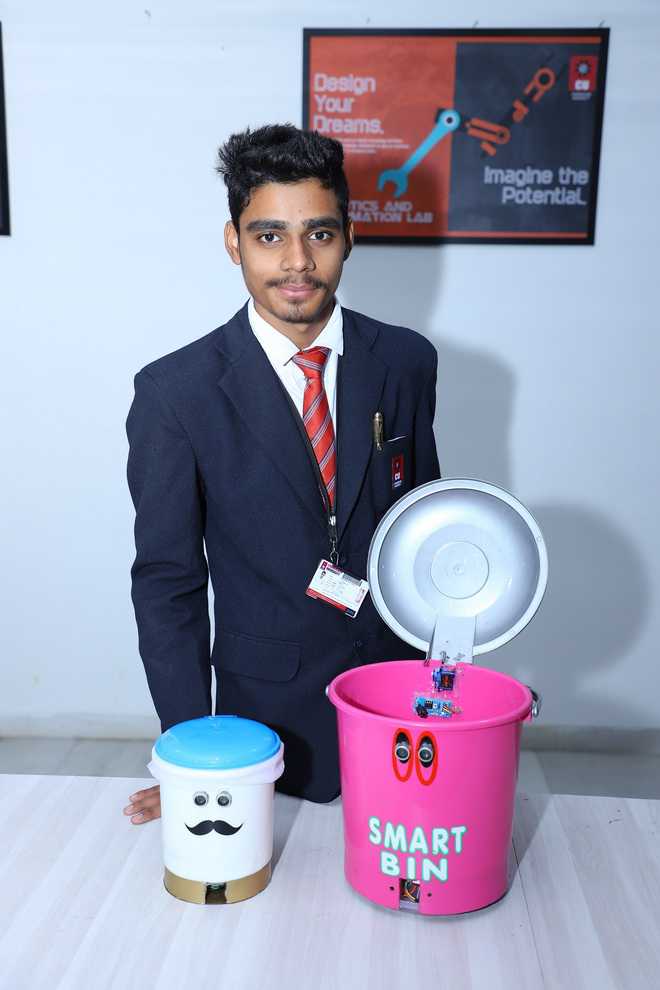 1, 00,000 metric tons of solid waste is generated every day in India and this makes garbage disposal an importasnt issue to deal with. This is also a hindrance to the Smart City and Swachh Bharat missions. Finding a 'smart' solution to the real-time waste-management system, Lovelash Dutt, a student of BBA first year at Chandigarh University, has designed a solid waste infrastructure — Talking Smart Bin. The bin can monitor waste level, sense motion and support more than 100 globally accepted languages with salutations like 'hello', 'use me' and 'take the trash out'.
Lovelash has registered his company Innovative Robot King with Chandigarh University Technology Business Incubator.
The solar panel embedded e-dustbin is equipped with a sonar sensor that works on echo and has a microcontroller fitted to it. The sensor-based motion detectors enable its flap to open and shut automatically. "The solar-powered bin can be charged with a mobile adaptor as well as power banks. After charging for just 20 minutes, it can be used for 24 hours non-stop," informs Lovelash.
The young inventor, who hails from Kaithal in Haryana, always disliked the idea of throwing garbage at any random place and came up with this innovation with an investment of Rs 4,000 only. These environment-friendly dustbins will be sold for Rs 1,500 and can be installed at various locations like railway stations, roadside, educational institutes, hospitals, cinema halls and other public places.
Lovelash is currently working on updating the first model by inserting IOT (Internet of Things) technology so as to enable the garbage-collecting authorities map the location of the bin and empty it on time. "There is no need to install brand new dustbins if you prefer to go green. You can just attach an IoT bin system to the old dustbins and convert the traditional bins to smart bins", informs Lovelash. He has already received more than 55 orders for his innovation.
Delhi Government has applauded this innovation and has shown keen interest in the implementation of these trash bins at various government schools and hospitals in the city. "My innovation was well received by the Delhi Government. I may soon be receiving support in terms of loan approval, components and resources from the Government Industrial Training Institute," says Lovelash. — TNS
Top Stories