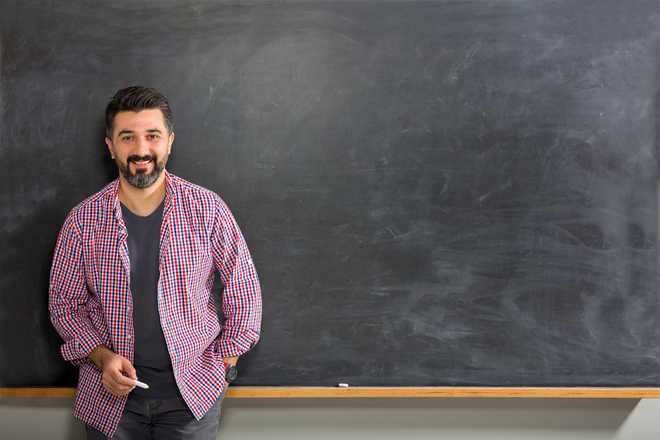 Usha Albuquerque
Teaching is undoubtedly a challenging and rewarding career, although for young school leavers it is often the least sought after. If you love spending time with young people, have heaps of patience and energy, then it can be the best job in the world. It can be financially rewarding and soul-satisfying as well.
With the boom in education in the past few decades, the numbers of kindergarten, elementary middle and senior secondary schools, colleges, vocational institutions, technical institutes, coaching institutes, universities and other institutions of learning have increased significantly offering great employment opportunities to those with the right motivation and interest. More and more government spending in the social sector has also increased the number of teaching jobs, the 6th Pay Commission recommendations have improved the pay scales, and the entry of several private players in the education sector has provided huge incentives to those looking for a career in teaching.
Our education system offers several options for people who would like to be teachers, right from the very basic nursery and pre-primary teaching to college and university, from diploma and certificate courses for school leavers, to BEd, MEd and the NET exam for college lecturers. Broadly they cover pre-service training, i.e preparing fresh teachers for the school system, as well as in-service training to improve the capacity of existing school teachers.
For pre-service training, there are well prescribed regulations laid down by the National Council of Teacher Education (NCTE), a statutory body of the Central Government, responsible for planned and coordinated development of teacher education in the country. The NCTE lays down norms and standards for various teacher education courses, minimum qualifications for teacher educators, course and content and duration and minimum qualification for entry of student-teachers for the various courses. It also grants recognition to institutions (government, government-aided and self-financing) interested in undertaking such courses and has in-built mechanism to regulate and monitor their standards and quality.
The educational requirements for the different levels of teaching vary, so for those looking towards a teaching career, here are some of the training programmes that can be considered:
Teaching starts with pre primary/nursery schools: An elementary teacher makes a lot of difference in the lives of the young learners because a child's pre-school experience is the first experience into the world of education. Therefore, it is essential that teachers get properly trained before they start working as a primary/elementary teacher and provide sufficient learning opportunities that facilitate maximum growth and development.
There are many private and government institutes offering the nursery teacher training programmes (NTT) which enable you to start working at a pre-school. Preference is given to those trained for pre-school education, such as the Montessori or Kindergarten pattern.
A high school pass with a nursery training certificate, diploma or degree is the basic requirement for nursery or primary school teaching. The eligibility requirement for a Primary Teacher in a Government School is Senior Secondary School certificate or Intermediate or its equivalent, and Bachelor of Elementary Education (B.El.Ed.), or Diploma or certificate in basic teachers' training of not less than two years' duration.
Teaching for Primary and Junior schools: The B El. Ed course is specially structured for training teachers for teaching children from classes I to VIII. For junior schools the eligibility requirement is a graduate or postgraduate degree with 55 per cent marks and a BEd in teaching/education. In addition, the candidate must have studied at least one of the teaching subjects during graduation. To qualify as a TGT (Trained Graduate teacher) in say, English, or science, you need to be a graduate in English or science, with a BEd qualification, which is a one-year degree course which qualifies teachers for secondary and senior secondary classes. The BEd is a full-time course and admission is on the basis of an entrance test followed by an interview.
Selection for a teacher's job in central government schools is based on the Central Teachers Eligibility Test (CTET). The purpose of this exam is to ensure good quality teachers for the government schools. This is why the central government introduced the Central Teachers Eligibility Test and state governments have the Teachers Eligibility Test.
Secondary and senior secondary school teachers: A post-graduate degree in the subject and a BEd is the basic requirement for teaching students in secondary and senior secondary classes. The basic eligibility requirement for a Post Graduate teacher (PGT) is a Master's degree from a recognized University with at least 50% marks in aggregate in your subject and the BEd qualification again, from a recognised university.
A lecturer or instructor in college needs to have a post-graduate degree with a certificate of eligibility for lectureship, the National Eligibility Test (NET) from the University Grants Commission. The National Eligibility Test (NET), is conducted by the University Grants Commission (UGC), and qualifies you to teach across India. The eligibility for appearing in NET exam is to have a master's degree or its equivalent from a recognised university. For further information check the website: www.ugcnetonline.in.
A PhD. with experience as tutor is also eligible, while a PhD with three years experience as lecturer/assistant professor is the basic requirement for a reader's post. A professor in a university department must be a PhD holder with at least ten years experience in teaching, of which five years must be as assistant professor.
The Bachelor of Education (BEd) course qualifies one to be appointed as a teacher for secondary and senior secondary classes. Your suitability for selection as a teacher will depend on the BEd course undertaken, the subjects for graduation, and post-graduation and a minimum eligibility requirement of 50 per cent in graduation. Every BEd. student has to develop pedagogical skills in two subjects carrying 200 marks each and should have obtained 50 per cent in each of the two subjects at graduation level. The course also includes student internships along with at least 16 weeks of teaching in schools with systematic supervisory support and feedback from faculty.
There are also four-year integrated BA BEd, and BSc BEd degrees being awarded by some National Council of Teacher Education recognised institutes.
However, through a notification of 1st December, 2014, NCTE, which is mandated with maintaining teacher education standards in the country, revised its Regulations increasing the duration of the BEd. programme from one year to two years from the academic session 2015- 16. Subsequently, there have been objections raised by several universities and institutes and some revised thinking on this matter.
The revised syllabus also includes new course modules on I.C.T., Yoga Education, Gender Studies and Disability Education which have been made compulsory in all the 15 teacher education programmes from 2015-16 academic session. Provision for 20 weeks of internship has been introduced for rigorous training of student teachers. With a view to improve its quality the duration of the BEd. programme has been enhanced to make it a more professionalised and rigorous teacher education programme.
While it is best to undertake the BEd programme through a regular degree programme, for those unable to take up a full-time degree programme there are also BEd degree courses offered through distance learning by many colleges and universities as well. However, as the teaching course requires much practical work, the BEd programme through distance education is only for in-service teachers and those with at least two years of full-time regular teaching experience in a primary, secondary, higher or senior secondary school recognised by the Central or state government.
---
NCTE guidelines
NCTE has now issued guidelines which have been approved by the UGC for BEd course through distance mode. Before taking admission in such programmes, the students should ensure that the university is recognised by NCTE and its norms are properly applied there. The salient features of the guidelines are:
The duration of the programme should be of two academic sessions/years (four semesters).
Admissions should be made on the basis of a written admission test
Admissions should be given only to regular teachers serving in recognised schools (primary, secondary, and higher secondary level) within the jurisdiction of the university and possessing a minimum two years of teaching experience
No university should admit more than 500 candidates in a given academic year subject to the condition that a Study Centre shall not enrol more than 100 students in a given session.
For every 500 students, there should be a full time core faculty and additional complement of ten part-time faculty members.
The eligibility norms also state that candidates need to have a minimum of 50% marks in graduation/ postgraduation, although this does not apply to persons appointed as teachers prior to the commencement of these regulations.
---
Among the universities which have been permitted to offer the B.Ed course through distance learning mode are:
Himachal Pradesh University (Shimla)
Maharshi Dayanand University (Rohtak)
Punjabi University (Patiala)
Kurukshetra University (Kurukshetra)
Karnataka State Open University (Bangalore)
Osmania University, Hyderabad
Nalanda University
M.D. University, Rohtak Dept. of Distance Learning
Jamia Millia Islamia (Centre for distance & open learning), New Delhi
Indira Gandhi National Open University (IGNOU) (New Delhi).
---
In-service training
Teachers, even the best of them, need to keep learning and growing. As important as pre-service training is in-service training of teachers. For this purpose there is an extensive network of government-owned teacher training institutions (TTIs), which provide in-service training to school teachers. The National Council of Educational Research and Training (NCERT), along with its six Regional Institutes of Education (REIs), and at the state level, the State Councils of Educational Research and Training (SCERTs), prepare a host of modules for various teacher training courses and also undertake specific programmes for training of teachers and teacher educators. Institutional support is also provided by the National University on Education al Planning and Administration (NUEPA). The Colleges of Teacher Education (CTEs) and Institutes for Advanced Learning in Education (IASEs) also provide in-service training to secondary and senior secondary school teachers and teacher educators. Apart from these, in-service training is also imparted at the district level, by the District Institutes of Education and Training (DIETs), and by many of the educational institutes themselves, both government and private.