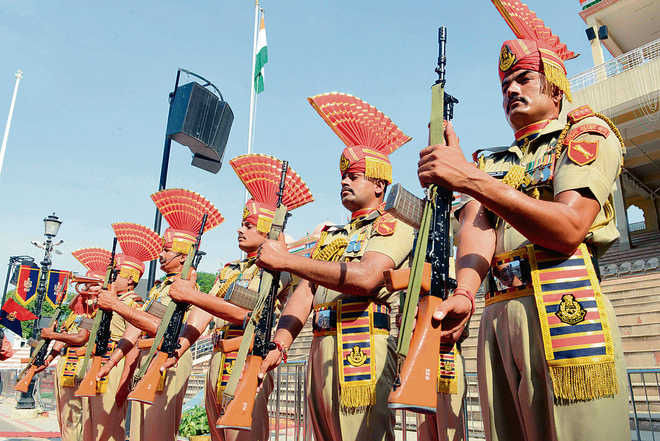 Ivninder Pal Singh
Are you inspired by the men in uniform? Do you love the idea of fearlessly defending your country across conflict-ridden zones? Are you ready to act as a shield for the internal security of India? If your answer is 'yes', then here is a great option for you. No, I am not talking about making a career in armed forces (Army, Air Force and Navy) or the Indian Police Services, but a career in the paramilitary forces.
With growing concern for internal security, a lot more opportunities are emerging for those aspiring to be in the paramilitary forces. These forces act as the second line of defence in securing the Indian borders and are mainly responsible for internal security. If the Border Security Force (BSF) is charged with guarding India's land border during peacetime and preventing transnational crime, the Central Reserve Police Force (CRPF) looks after the internal security of every part of India with countering Naxal operations as one of its major responsibilities.
Apart from maintaining India's internal security by patrolling the land borders, from the northeast to the Thar desert, the paramilitary is also being deployed in diverse roles such as ensuring fair and peaceful conduct of elections, guarding against terrorists and Maoists, VIP protection and providing help in a natural calamity.
All paramilitary forces function under the purview of Ministry of Home Affairs (on the other hand, the Indian Army, Navy & Air Force come under the Defence Ministry) and have different components and roles.
Three steps to selection
1 The selection procedure begins with a written test which includes two papers. Paper I has multiple choice questions testing the general ability and intelligence of the candidates and is of 250 marks (125 questions). Paper II (General Studies, essay and comprehension) is subjective in nature and is of 200 marks. Here candidate has the option of writing the essay component in English or Hindi, but the medium of précis writing, comprehension components and other communications/language skills are in English only. One needs to score minimum qualifying marks separately in each paper as may be fixed by the UPSC. Paper I is evaluated first and evaluation of Paper II is done only of those aspirants who get minimum qualifying marks in Paper I. And be careful while answering in Paper 1 as you will invite penalty for every wrong answer.
2 Those who clear the written test are summoned for Physical Standards/Physical Efficiency Tests and Medical Standards Tests.
The physical standards include height (165 cm for men and 157 cm for women), chest (81 cm with 5 cm of minimum expansion for men and not applicable on women) and weight (50 kg for men and 46 for women).
The Physical Efficiency Tests (PET) includes four events — 100 metre race; 800 metre race; long jump ; and shot put (7.26 kg).
All four events are for men while only first three are for women (see box for details).
Medical Standards Tests — to check vision, colour blindness, hearing disability etc — are conducted only on those candidates who qualify in PET.
3 After clearing the first two hurdles, the candidates appear for an interview/personality test, which is conducted by the UPSC and carry 150 marks.
After shortlisting candidates for the interview, they are given Detailed Application Form (DAF) in which, among other things, they are required to indicate their preference of Forces.
The final merit list is prepared on the basis of marks scored in both written examination (250+200) and interview/personality test (150).
Success mantra
It is often said that there is no shortcut to success, you have to take the stairs of hard work. But here we need smart work to accomplish our goal. We need different skills for both the written papers. To score big in Paper I, you need to be well read, very conscious about your surroundings, well armed with NCERT concepts and of course, the newspaper is your best friend because methodical reading of newspapers on a regular basis will help you at every stage of the recruitment process.
It keeps you aware about the events happening around and also aids in maintaining focus over a long span, which is good practice for reading comprehension.
The vocabulary and grammar usage in newspaper articles is top-notch and will help you in Paper II, which tests your comprehension and language skills. Your reading menu should also include a monthly current affairs magazine along with question papers of previous years and practice tests. One needs to be very careful while attempting a question in Paper I as wrong answers invite penalty here. No guess work please. For every wrong question, one third of the marks assigned to that question are deducted.
For scoring big in Paper II, one must be good at language and expression. This can be easily achieved by active reading. The latter means when while reading you ask yourself: "Can a question be framed on this?"
One must focus on current social, political and economic issue/problems and must think in an analytical manner while look ing for solutions to the prevailing economic and social problems along with suggestions for the betterment of society. This will surely help you while attempting essays and writing a report.
An aspirant must develop skill of counter-argument as this is an important part of Paper II. A counter-argument is an argument opposed to your thesis, or part of your thesis. It expresses the view of a person who disagrees with your position.
Make sure you express the counter-argument fairly and objectively. Ask yourself if the person who actually holds this position would accept your way of stating it. Put yourself in their shoes and give them the benefit of doubt. In the 2019 exam, the UPSC wanted candidates to write arguments for and against (a) Digital technology may replace books with computers and (b) Homework should be banned at primary-level education. So, if you want to don the uniform and are ready to help your motherland 24X7, wake up from your slumber. Pick up your books and newspaper, broaden your horizon, widen your vision and take on the UPSC challenge. All the best!
Prepare yourself
Write arguments for and against each of the following statements
n Privacy is an elitist idea
n Note-ban, effective tool against black money
n The youth in India are getting addicted to Android mobiles
n Power flows from the barrel of the gun
n The trend of nuclear families will make old age homes in India increase in number
Write reports on the following in about 200 words each
n Data leak from Facebook
n Violence on University campuses during Student elections
n The rising juvenile abuse
n Water scarcity and access to drinking water
n Corruption in politics
Write essays on any four of the following in about 300 words each
n Revamping our banking system is the need of the hour
n Cleaning and connecting the rivers in India
n Non-performing Parliament, unhealthy trend in Democracy
n Promoting innovative outlook in education
n Sustainable farming is the need of the hour than rhetorical promises
(Culled from questions papers of previous years)
Syllabi for written exam
Paper I (General ability and intelligence): The paper has multiple choice questions and cover mainly six areas — general mental ability, general science, current events of national and international importance, Indian polity and economy, history of India and Indian and world geography. The nature and standard of questions is such that a well-educated person is able to answer without any specialised study. They are framed so as to test a candidate's general awareness on a variety of subjects and aim to judge a candidate's awareness, understanding and analysis of contemporary events.
Paper II (General studies, essay and comprehension): It has two parts. First part has essay questions which are to be answered in a long narrative and is of 80 marks and can be attempted in English or Hindi. Part II consists of comprehension passages, precis writing, developing counter arguments, simple grammar and other aspects of language testing. This part carries 120 marks.
The journey
The Union Public Service Commission (UPSC) holds a written examination for Assistant Commandants (Group A) in the Central Armed Police Forces (CAPF) — Border Security Force (BSF), Central Reserve Police Force (CRPF), Central Industrial Security Force (CISF), Indo-Tibetan Border Police (ITBP) and Sashastra Seema Bal (SSB). In 2019, a total of 323 vacancies were advertised by the UPSC across all five paramilitary forces. Of these, 10 per cent vacancies are earmarked for ex-servicemen. In case these remain unfilled due to non-availability of eligible or qualified candidates, the same are filled by candidates from non-ex-servicemen category.
Important exam dates 2020
Notification April 22, 2020
Last date to apply May 12, 2020
Written exam August 9, 2020
The power test
Event Males Females
100 metre race 16 seconds 18 seconds
800 metre race 3 min 35 sec 4 min 45 sec
Long jump (3 chances) 3.5 metres 3 metres
Shot Put (7.26 kg) 4.5 metres NA
Top Stories