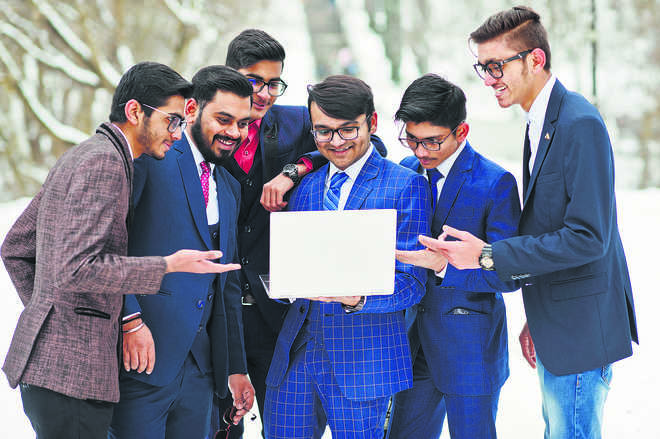 Gauri Chhabra
In today's challenging and ever-evolving economy, experience counts more than qualifications. Summer internships are often great opportunities to gain relevant experience in the professional field you intend to pursue. These are a chance to differentiate yourself from your peers by learning real-world skills, gaining foreign language proficiency, and immersing yourself in cultural opportunities which will help make your resume second to none.
These days, however, a number of students also explore internships abroad to get an edge. In an international internship, you may work with a company, government or non-government entity, a research group or institute or some other organisation allowing hands-on experience in a your major area of educational concentration or career interest.
Getting an internship abroad requires considerable research and self-awareness. You need to ask the right questions and know how to assess your opportunities. Some of these internships are:
The Wall Street Journal, London, England
This is a dream internship for budding journalists. It is a 10-week, paid internship that would start in the month of July with The Wall Street Journal, based in London. This Dow Jones International opportunity is ideal for both undergraduate and graduate students who are excited to report on finance and business news and can demonstrate the ability to produce video, edit print and digital works, and work under tight deadlines.
Successful candidates will work across a range of functions in our digital-first newsroom, gathering impeccable experience along the way.
You should expect to write, conceive and publish stories; help arrange special sections and events; and work in print and online. Digital journalism skills are welcome. An interest in financial journalism is very helpful. An inquisitive mind and an eye for a story is a must.
The application process is through submitting CV and covering letter along with either a YouTube video telling why you should be chosen to be the 2019 Financial News business intern * or a 4-slide PowerPoint telling: *What does WSJ, Financial News, mean to you?
PwC: Women in Business Programme in Edinburgh, Scotland
Open to all, regardless of gender, this programme is to inspire and support students seeking an experience in professional services, and is part of a commitment to improve female representation by showcasing female leaders. The programme focuses on developing confidence and skills and provides an insight into the opportunities available at PwC. With success, interns will earn placement (depending on their application). Though an extensive process, this Women in Business programme is a shadowing internship that first requires a three-day paid placement. During this placement, interns will shadow a female leader within the organisation and have the opportunity to impress them.
Goldman Sachs
Students and recent grads who are hoping to gain experience in the financial services industry can do so in a competitive international environment, with colleagues who are at the top of their game. Just make sure you have a polished resume and are ready to compete with the best for a limited number of positions.
This is one of those fully paid internships abroad that will set you apart in your career search. It will also equip you with skills and give you the hook-up when building your network of professional contacts. The internships are available worldwide and the information is available at Goldman Sachs Internships Abroad.
IAESTE: Technical Internships Worldwide
If tech is your forte, don't let your skill go to waste with an internship that doesn't challenge your skill set. Take the leap with the International Association for the Exchange of Students for Technical Experience (IAESTE) and consider applying for one of their paid internships in over 80 countries. IASTE interns receive salary payments to cover their cost of living abroad (at the very least) and programme assistance with visas and work authorisation. So whether you are a computer scientist, mechanical engineer, architect, or complete math whiz, if you are enrolled full-time in a technical field and a sophomore, rising junior, or above submit your
Deloitte
A powerhouse of business both in the United States and throughout the world, Deloitte's all-expense paid internships abroad program abroad brings students all around the world in a number of different fields. Given that Deloitte is considered one of the "Big Four" professional services firms, it's also an experience that will look amazing on your resume. From business technology to corporate finance to consulting, there are endless options.
H&M: Business Internship in Stockholm, Sweden
For students who are majoring in business but also have a passion for fashion, a summer internship with H&M at their headquarters in Sweden might be just the thing for you.
The programme runs during June-July each summer and they also offer additional weeks in store in order to prolong the internship. The application for summer internship program for next year is usually open from October 2 to December 2 every year.
KONE
KONE is an international leader in the escalator and elevator industry, have been voted one of the world's most innovative companies by Forbes, and they offer all-expense paid internships abroad.
While this is definitely a great industry for an engineer major, KONE also has internships in IT, business, law, and other disciplines. Plus, they WANT you to intern in another country, so their International Trainee Programme (ITP) includes round-trip travel expenses in addition to your salary. Oh, and they'll arrange your accommodations and make sure you have an in-country point person to support you.
AIPC Pandora
This International Experiential Educational program me allows students or recent graduates to take part in the operations of foreign organisations or companies.
It is, therefore, a promising opportunity for young people who are interested in obtaining practical experience at a professional level in an international scenario, with the possibility of acquiring academic credits as well.
Internship programmes are located in Europe, Asia or South America. It includes academic and professional fields such as education, health, communication, business administration, marketing, tourism, journalism, etc.
AsiaOppo: Hospitality internships in China
Love to travel the world and always had a desire to join the tourism industry? Hospitality administration majors will love AsiaOppo's Hospitality Internship Program in China.
There are other opportunities in business, design, and education, but hospitality and tourism majors seem to get the best deal. Since this is a placement programme, there is a fee, but you will also earn a monthly salary plus covered food and lodging. In addition to compensation and paid expenses, you'll also receive programme support airport pickup, and a certificate upon completion — you're essentially set for the summer.
Cultural Vistas: Professional Development Fellowship in Argentina, Germany, or Hong Kong
If you seek a totally unique experience for the summer, consider Cultural Vistas' eight-week internship in one of three countries: Argentina, Germany, or Hong Kong. While there isn't an additional salary, the highly acclaimed program selects up to 15 fellows, total, and is completely funded by Cultural Vistas. Not only will you focus on civic engagement and youth involvement, but you'll also be able to gain culturally immersive experiences that help you grow personally and professionally. Expect support from Cultural Vistas pertaining to virtual learning, pre-program orientations, visas, and emergency medical insurance.
TEFL: Teaching Internship in Thailand
Future educators seeking a paid internship overseas have an option for TEFL programme in Thailand. Not only will you receive training as an English teacher, but you will also gain a 4-5 month paid teaching internship, and a culturally immersive community experience.
Be prepared to complete a digital training, two-week in-person training, and placement in a rural or provincial school. If you want to go beyond the internship, though, you'll have the option to extend it into a full TEFL certification. Including two start dates per year in May and October, plus a chance to extend your contract and increase your salary the longer you stay, this is a lifetime opportunity.
DO A SWOT
Before choosing an internship, do an analysis of your strengths and weaknesses; also opportunities and threats. Then try matching them with the country you wish to go and the culture that organisation upholds. Choosing a country, deciding a career field, and finding a company to host you is no small feat. Do you want a large company or small, in fashion or marketing, accounting or finance, work on individual projects or as part of a team? The more specific you are with your expectations the more likely you are to find a good match. Besides, you need to be sure your skills, interest and experience match the position, the business, and even the supervisor where you would intern. Other considerations should go into your search and ultimate decision like: health & safety, accommodation, insurance, communications, peer group etc
---
Where to look
Online resources like internships.com, idealist.org, gapyear.com, globalplacement.com, careerbuilder.com, hotjobs.com, and others.
Third-party programme providers like Global Experiences, crccasia.com, connect-123.com, barcelonasae.com.
Listing services for programmes abroad — study, volunteer, intern and teach abroad
---
Clarify your objective
What is your primary objective for going abroad to intern? Is it because you wish to travel, have a good time or to hone your global skills? Are you going to show off to your peers on social media or you wish to add a feather to your resume? Answering these questions will help define the type of experience you are looking for and it is integral to setting yourself up for the best outcomes.
If you plan to intern abroad zero in on a place that provides you an experience closest to what you are looking for in the career you are pursuing or wish to pursue. The internship has to complement the skills you already have.