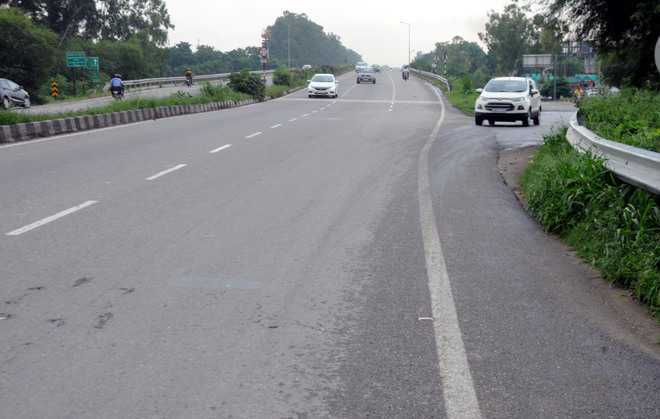 harinder@tribunemail.com
ROADS, a lifeline for commuters, often turn into deathtraps due to poor maintenance or sheer negligence on the part of the government authorities and private companies. The Motor Vehicles (Amendment) Act, enacted recently, has the provision for a fine up to Rs 1 lakh on the construction firm for not complying with the standards for road design, construction and maintenance. In view of the inordinate delay in the repair of the toll road from Kiratpur Sahib to Una, the Public Works Department has slapped a fine of Rs 1.05 lakh per day on the company concerned. A couple of months ago, the National Highways Authority of India (NHAI) had imposed a penalty of Rs 30 crore on the Solkhian toll plaza authorities for failure to maintain the road from Kurali to Kiratpur Sahib for over two years.
Such penalties are a wake-up call for the concessionaires that collect toll from the public with great alacrity but are found wanting when it comes to providing pothole-free roads. Motorists are cheated out of their hard-earned money when they don't get the services they pay for. However, cracking the whip on private firms does not absolve the government bodies of responsibility. The Chandigarh-Kharar flyover project, for instance, sticks out like a sore thumb. It has missed several deadlines as the NHAI and the district administration have been passing the buck to each other regarding the sticking points, including the demolition of structures coming in the way and restricting the entry of heavy vehicles on the road beneath the under-construction flyover. The blame game has rendered the underpass a major traffic bottleneck that infuriates road users as well as local shopkeepers.
Road Transport and Highways Minister Nitin Gadkari recently told NHAI officials that delayed decisions were 'totally unacceptable', while urging them to fast-track the construction of highways. The next step should be to fix accountability and impose fines whenever work is held up and the project cost shoots up due to officials' ineptitude or negligence. They should be held liable for the criminal waste of time and resources while executing seemingly interminable road projects.