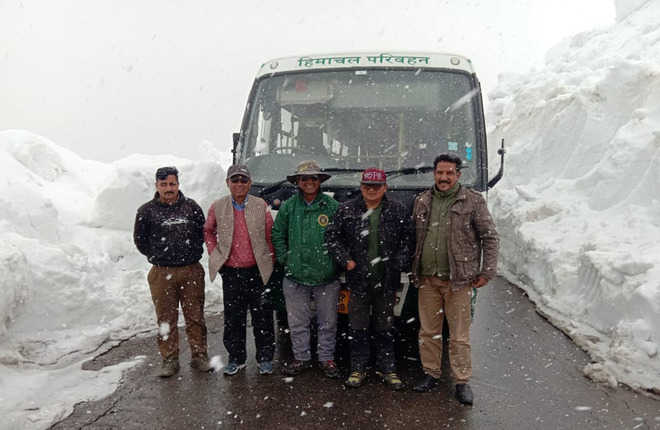 editorial@tribune.com
pender Manta
Tribune News Service
Mandi, May 21
The HRTC will resume its bus service on the Manali-Keylong route via Rohtang on Wednesday. It will be a huge relief for residents of Lahaul, who have been cut off from the state since December.
The Rohtang Pass was blocked in December because of heavy snowfall. With the relentless efforts of the Border Roads Organisation, the pass had been restored to traffic on May 19.
The HRTC conducted a bus trial between Manali and Keylong via Rohtang on Monday, which observed that there was need to widen the road at many places for smooth traffic.
Mangal Chand Manepa, regional manager of the HRTC, Keylong, told The Tribune, "On Monday, we conducted a trial between Manali and Keylong to resume the bus service. A long stretch on this route has high walls of snow on both sides because the area received 30 to 50 feet snow. There is need to clear the snow at a few pockets and, thereafter, the HRTC will resume its bus service."
"BRO Commander, Colonel Uma Shankar, who is heading the snow-clearance operation has assured us that snow will be cleared soon. The BRO and district administration, Lahaul Spiti, have given their nod to resume the bus service on this route," said Manepa.
He said, "On Wednesday, we will start two buses from Keylong to Manali and two buses from Manali to Keylong. The frequency of buses will be increased in the coming days."
People of Lahaul Spiti are eagerly waiting for the service. The reason is clear that for the past five months, they had been left at the mercy of the state government in emergency cases.
Ramesh Kumar, a resident of Keylong, said, "The people are happy with the news that the HRTC will resume the bus service. It will be a huge relief for us. Due to lack of transportation facility, the people were being forced to travel such a long distance on foot via Rohtang by putting their lives at stake."