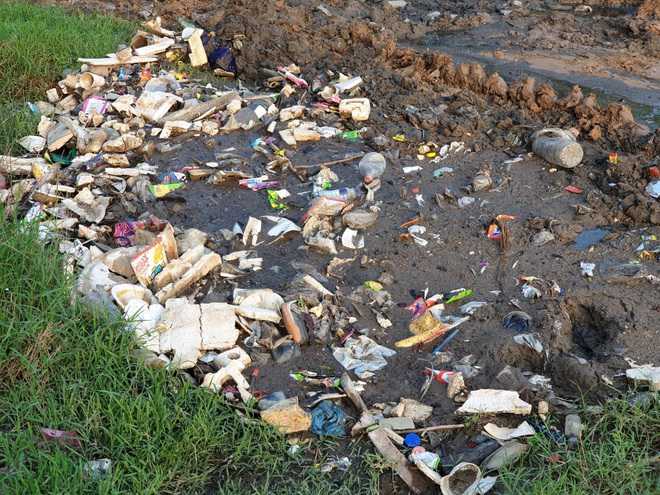 editorial@tribune.com
Tribune News Service
Mohali, July 16
The contractor of the Municipal Council, Kharar, who has been given the work of cleaning the sewerage in the area falling in the committee limits, has dumped the waste in fresh water ponds and other common places in nearby villages. Some of these ponds are well-known habitats of migratory birds.
Last month, The Tribune had reported that drains on both sides of the Landran-Kharar road were choked as the garbage in these had not been removed for the past five years. As a result, the drains were filled with plastic bottles and polythene bags. Foul smell emanating from the drains had further compounded the problem. The accumulation of waste is posing inconvenience to people in the rainy season and they fear that dirty rainwater will enter their shops and houses.
Initially, the committee kept on passing the buck on the National Highways Authority of India, but after drawing flak, it gave the contract for cleaning the sewer lines.
However, due to the "lackadaisical attitude" of MC officials, the situation has gone from bad to worse as the contractor has started throwing muck in village ponds falling around the road. The recent example is a fresh water pond at Khuni Majra village. Villagers have complained to MC officials, but they have turned a deaf ear. Kuldeep Kaur, a resident of the village, said now with heavy rain, the pond would start overflowing and the muck would enter their houses. She said they had approached MC officials, who refused to listen.
Raj Kumar Koul, president of the JTPL Residents Association of a township near Khuni Majra village, said these water ponds were the habitat of migratory birds. These would never recover from the damage. "The Punjab Pollution Control Board must hold an inquiry into the case," he said.
Rajesh Sharma, Executive Officer of the Kharar MC, said the matter was serious and they would look into it tomorrow and take action against the contractor.