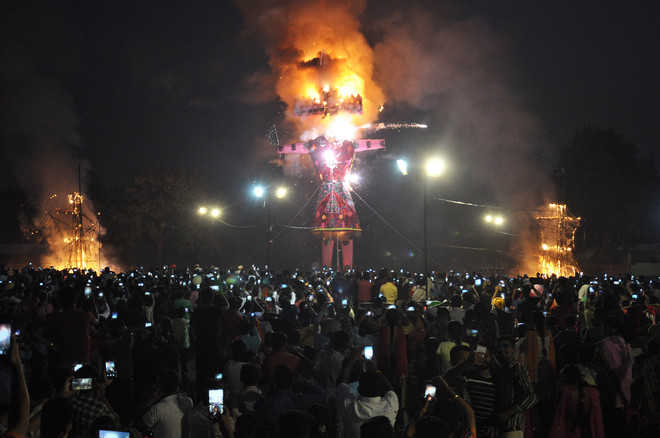 harinder@tribunemail.com
Tribune news service
Amritsar, October 8
Dasehra was celebrated here amid calls for controlling air pollution. With memories of last year's Joda Phatak train accident still intact, the turnout during the burning of the effigy of Ravana was a bit low than the previous years.
Cabinet Minister Om Prakash Soni, along with Deputy Commissioner Shivdular Singh and Police Commissioner Dr Sukhchain Singh Gill, were among the prominent guests at both the ceremonies. The extensive campaigns by NGOs and administration towards green festivities seemed to have worked as limited use of crackers was being made to burn the effigy.
"It was an intentional effort from the committee organisers to limit the use of firecrackers as we did not want to cause excessive air pollution. We hope that people keep this in mind during Diwali celebrations as well," said Ramesh Sharma, president, Durgiana Committee. The trend finds factual support from the previous data on air quality by the Punjab Pollution Control Board (PPCB).
Last year, during Dussehra and Diwali celebrations the average air quality index of Punjab was at 234 compared to 328 in 2017, indicating a decrease of 29 per cent in AQI. In Amritsar, it was recorded at 167, better than Jallandhar, Khanna and Mandi Gobindgarh.
Meanwhile, the turnout for the celebrations was also recorded lower than the last year, as the memories of the Joda Phatak accident were still etched in the memories of people. "So many people died last year during the celebrations and the incident is still fresh in our memory. This year, we avoided taking our kids for the fear of any untoward incident," shared Monika Sharma, a housewife, who instead celebrated the festival at home.
Top Stories