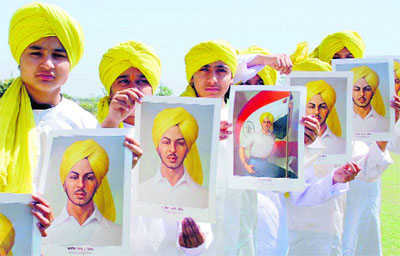 Karthik Venkatesh
FEW freedom fighters have captured public attention like Bhagat Singh has. He, along with his comrades Sukhdev and Rajguru, was hanged to death by the colonial regime on March 23, 1931. It is a day associated with martyrdom in popular imagination and tinged with wistfulness for what might have been had the 22-year-old Bhagat Singh, wise beyond his years, lived. Bhagat Singh was born in a family steeped in the nationalist cause. His father, Kishan Singh and his uncles, Swaran Singh and Ajit Singh, had been to prison for opposing the Colonisation Bill that imposed unfair charges on farmers and settlers in Punjab's newly developed canal colonies. Given the family's political involvement, Bhagat Singh grew up in an atmosphere of political discussion and dissent. He grew up idolising Kartar Singh Sarabha, one of Punjab's early martyrs. Sarabha was executed for his role in the Ghadar rebellion, which was an attempt to radicalise soldiers of the British Indian army to rebel against British rule.
Bhagat Singh studied in Lahore, then a centre of nationalist activities and home to the nationalist leader Lala Lajpat Rai. Here, he came in contact with various revolutionaries like Chandrashekhar Azad, Bhagwati Charan Vohra, among others. He began to engage in serious political activity. At that time there were two streams of political activity in the freedom struggle — the Gandhian mass movement that occupied centre stage and the stream of a radical revolutionary struggle which attracted a large number of youth. The youth became politicised after witnessing the brutality of the colonial masters as exemplified by the Jallianwala Bagh massacre of April 14, 1919.
Bhagat Singh and his comrades are remembered for the shooting of Saunders in 1928 as retribution for the police attack on Lala Lajpat Rai earlier that year and the throwing of pamphlets in the Central Legislative Assembly hall in Delhi on April 8, 1929, accompanied by the throwing of a bomb. After that, the young revolutionary and his associates courted arrest. The intention behind throwing the bomb was not to cause injury but "to make the deaf hear". Through this act, the revolutionaries wished to draw the attention of Indians towards the bills that the British were trying to push through — the Public Safety Bill and the Trade Disputes Bill, which was to be followed by the threat of imposition of the draconian Press Sedition Act.
The trial of the three young revolutionaries was one of the finest moments in the freedom struggle of India. They used the opportunity of the trial to highlight the oppressive nature of British rule. In the decades that followed, Bhagat Singh's memory has influenced many across political formations. It is also true that at various points in time different political formations have sought to appropriate his memory for their political ends. India's leftists, rightists, nationalists and regionalists have all laid claim to his legacy. His life and work has been used many times over to make various points by various groups. Mainstream nationalist narratives continue to underplay the significance of Bhagat Singh and his ideas which spoke of colonial oppression and highlighted the internal contradictions in Indian society. In Left-leaning narratives, he is hailed for embracing socialism. In narratives of the Right, the Arya Samaj background of Bhagat Singh's family is emphasised. During the heyday of militancy in Punjab, he was claimed by the Khalistanis in their struggle for Khalsa Raj. This is best portrayed in an Anand Patwardhan documentary — In Memory of Friends (Unhan Mitran di Yaad Pyaari), which was shot in Punjab during the militancy period and released in 1994.
Importantly, Bhagat Singh's essay, "Why I Am an Atheist", is conveniently ignored by Rightist narratives and his religion is played up. In "Why I Am an Atheist", Bhagat Singh lays to rest all questions regarding his religious faith, stating bluntly that he had none. "I deny the very existence of that Almighty Supreme Being," is his statement. He maintained this claim even in the face of certain death. In addition, there is the Bhagat Singh who inhabits the realm of popular culture through his appearance in films and popular writings. The mid-1960s film Shaheed features actor Manoj "Bharat" Kumar. In these movies, Bhagat Singh is fitted into the mould of the Bollywood hero. In Shaheed, a dramatic song involves Manoj Kumar (who plays Bhagat Singh) burning his finger with a candle, even as he sings about his intent to die for the nation. There is no visible pain evident on his face or in his voice. He is almost superhuman. A romantic interest is also hinted at. Both the superhuman characterisation and the romantic interest were requirements of the Bollywood system. Another movie released in 2006 (Rang de Basanti), used the lives of revolutionaries like Chandrashekhar Azad and Bhagat Singh as a parallel to what a group of hedonistic-turned-aware youth were doing in the present day. The act of killing Saunders was juxtaposed with the modern-day act of killing the defence minister, as revenge for his indirect involvement in suspicious purchases that had claimed the life of an Air Force pilot friend of theirs and as a supposedly radical political statement about tackling corruption. Perhaps this movie, more than any other, exemplifies the limited view of Bhagat Singh in the mind of the public. Bhagat Singh and indeed all the other revolutionaries have been reduced to being "men with guns and bombs". That they intended to secure freedom with these guns and bombs, as opposed to the non-violent struggle of Gandhi is the narrative that is sought to be constructed.
Bhagat Singh was anything but a "man with a gun and a bomb". A deep thinker, he had extensively studied Socialism, Marxism and history. At Lahore, he had helped build a library of books on the revolutions of Russia, Ireland and Italy. In addition to Marx, Engels, Lenin and Trotsky, Bhagat Singh also read Bertrand Russel, Thomas Paine, Upton Sinclair, William Wordsworth, Lord Tennyson and Tagore. In his words: "Bombs and pistols do not make a revolution, the sword of revolution is sharpened on the whetting-stone of ideas". Clearly, Bhagat Singh's ideas about violence and freedom were nuanced. Freedom to the revolutionaries meant freedom that went beyond freedom from British rule and an end to all the chains that bound mankind. Post the killing of Saunders, leaflets distributed by the Hindustan Socialist Republican Army (the political grouping that had been founded by Azad, Bhagat Singh and others) stated, "We are sorry for shedding the blood of a man but it is necessary to shed blood on the altar of revolution. We aim at such a revolution which would end exploitation of man by man." Violence and revolution too were, therefore, not just words. They were to be reasoned about and thought through. Political action would then follow in line with the thinking and ideas.
Almost all representations of Bhagat Singh do him injustice. Very few seek to recall the energy and length and breadth of his ideas at such a young age — on issues ranging from governance to economics to the language question to faith, among others. Content to dwell on the physical aspect of his "revolutionary" life, they neglect the revolutionary potential of his ideas — the fact that he went beyond asking for freedom from British rule to stress economic freedom as well. There is an attempt to be content with a "sanitised" view of Bhagat Singh, given the public allergy for shades of grey in historical figures and public preference for the straightforward in preference to the radical and revolutionary. In doing so, Bhagat Singh's revolutionary possibilities have been diluted. His was an extraordinary life.
This extraordinariness came from a multi-faceted personality that encompassed deep thinking, extensive reading, self-sacrifice and the vision of a better world. Bhagat Singh understood in his fullest could be the kind of role model that the world today desperately seeks — an individual rooted in his context and fully alive to the contradictions and possibilities therein. This involves reading him and about him and understanding the many narratives of the freedom struggle and being open to historical truths and not shying away from facing unsavoury facts about our leaders and about our actions as a people and as a nation. It means becoming politically aware through reading and reflection and not by watching news debates of the 9 pm variety. Don't we owe it to ourselves that we should attempt that complete understanding?
The writer, an educationist, is a Chennai-based Consulting Editor with Westland Books.
All readers are invited to post comments responsibly. Any messages with foul language or inciting hatred will be deleted. Comments with all capital letters will also be deleted. Readers are encouraged to flag the comments they feel are inappropriate. The views expressed in the Comments section are of the individuals writing the post. The Tribune does not endorse or support the views in these posts in any manner.