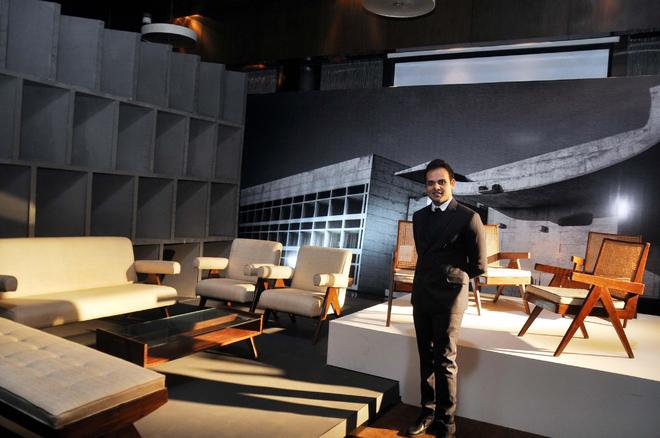 Nonika Singh
'Less is more.'Hey, hold it, is he serious? An architect, whose client list boasts of the rich and famous, including glamorous film stars, can't possibly mean what he says. Seriously, how can he possibly translate this minimalist mantra into abodes of larger than life stars?
Ah, but Mumbai-based award winning architect and interior designer Ashiesh Shah might avoid excess of all kinds, don't you dare associate the word staid or simple with him. Or, presume that he is not dramatic or stylish enough. Rather, in each area he creates a striking point of interest, lets it be the centre of attraction and the rest of the design communicates in the quiet language of subtlety. And this stamp of his is writ almost all over his interiors.
Designing for stars, he assures us, is no more difficult than designing for you and me. He avers, "Precisely for they too are human beings who have the same needs and requirements." Of course to each his own. Thus Ranbir Kapoor's bachelor pad is very different from Jacqueline Fernandez's home and hers is distinctively different from Hrithik Roshan's. Sure, home is a personal reflection of the owner. And Shah's skill lies in helping them realise their dreams. You bet Ahsiesh's own home is a dream abode too. And brimming with art pieces at that! An avid art collector, his name figures among the top five young art collectors of South-East Asia. While renowned artist Anita Dube has created a site specific work for his house, even otherwise his enviable collection boasts of significant names of contemporary art, not just India but the subcontinent. He laughs, "All my money goes in collecting art."
At this year's India Art Fair he even flew in his clients to buy art. Today as the euphoria of art boom is over, he believes people are buying art they want to live with. As an architect he likes to work with artists and designers and advocates all architects must visit Art Biennales. Incidentally, it was at Art Basel that he woke up to the genius of Le Corbusier and also how we are fast losing his legacy. As he saw and even bought furniture designed by Corbusier, his consternation led him to Chandigarh. A long interface with well-known architect M N Sharma and the net result was a special show Ashiesh put up at the concluding party of the India Art Fair. To those who felt that the party venue wasn't quite the perfect choice for paying a tribute to the great architect he has a clarification at hand. He justifies, "The room in which Corbusier's furniture was displayed was separate and out of bounds for 'eat, drink and be merry' crowd."
And if you belong to the tribe that keeps wondering what the fuss over Corbusier is all about and love to criticise him, he says, "Obviously when a man is ahead of his times, he will be censured. And the fact that we have not been able to create another city like Chandigarh ought to answer all critics and cynics."
He will be taking the exhibition on Corbusier to other parts of the country too. Soon, he who believes 'art and architecture are inseparable', will also be working with celebrated artist Bharti Kher for a joint collaborative artistic work. Young and successful…. what does it mean to him? And the debonair architect smiles, "I can't afford to be smug… an architect is only as good as his last work." Only this time don't take his words seriously, take a look at his house (pics) and you know good things last forever.
After all it wasn't just for nothing that he was named as the 20 people to watch out for in the year 2011 by CNN GO.
nonika@tribunemail.com
Top Stories