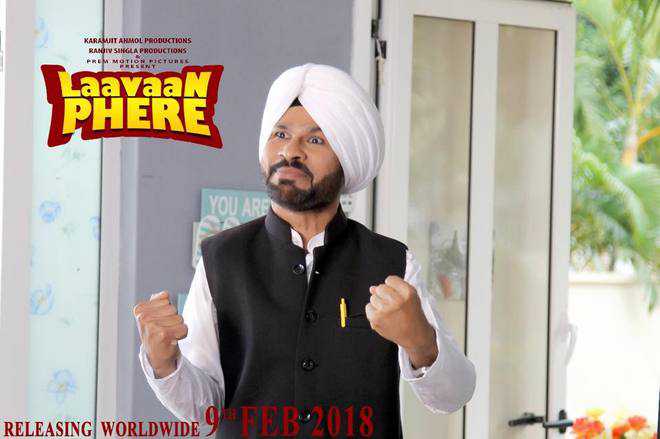 Jasmine Singh
Punjabi actor comedian Harby Sangha from Jalandhar is an omnipresent character in almost all Punjabi films. Whether it is through his expressions or through his punches, the artiste will leave you in splits is guaranteed. Today, after almost 15-20 years of being associated with the Punjabi entertainment industry, Harby has finally got the much deserved recognition. He signs autographs, fans inch close to get selfies with him, but the man who will be seen in the up and coming Punjabi film Laavaan Phere hasn't forgotten the days of struggle, the two people who helped him to sail all along and one pill that he has swallowed throughout his life.
For those of you who wouldn't know, Harby has the longest association with actor Gurpreet Ghuggi. "I have been with him for almost 20 years now. I am a huge fan of his work. It was Gurpreet bhaji who encouraged me and supported me throughout. Imagine, a person who hasn't seen Delhi gets to travel to the US and Canada, all because of bhaji," Harby has only begin begun with the thanksgiving address. All said and done, Harby fondly and dearly thanks his wife, Simran Sangha for supporting him when he was completely disheartened and had decided to going back to being a compounder. "There came a time when I wasn't too sure of how I would run the house, my work was uncertain. I had decided to would get attached to a doctor again and at least earn Rs 7000-8000. It was Simran who offered to pitch in, she said that she was in love with my acting and would hate to see me do anything else. So, she would sew clothes and this is how, we kept going."
His struggle might sound filmy, but Harby Sangha has lived through this struggle by swallowing a pill every day. "The pill is called hard work. I am succour for hard work; in fact, this is all that I can do."
It is precisely this pill that gave Harby the strength and energy to keep doing despite the ups and downs. The artiste went on to play all kinds of characters, a blind beggar in Naughty Jatts, a siri (labourer) in Nikka Zaildar, a rickshaw puller in Carry On Jatta and now a jija in Laavaan Phere. But length of the role was never a consideration.
"I had no dialogue in my first film Asa Nu Maan Watna Da, and I had extremely small roles in various other films, length of the role was and neither is my consideration. I only believe in giving my best, honestly and differently," shares the artiste whose only point of consideration while signing a film to play a different character each time. "I like to experiment with my roles, this is all."
Enjoying the outcome of hard work and relentless dedication, Harby is flooded with offers today. So much so, he was been approached to play Yograj Singh's man Friday in a Hollywood film! "The first thing that I asked these people was, whether the film was being made in English and they affirmed. I told them that English is a language that I have had two compartments in. I guess they were not interested in this, but my work. So, let's see how this shapes up," Harby sums his journey so far with a Punjabi saying, "Do pair ghat turna, par turna madak de naal. (One may live a year less, but one will live with pride and dignity).