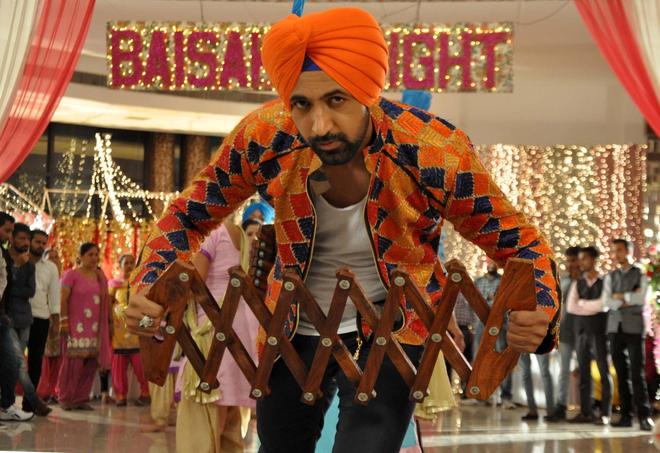 Mona
The hot, sultry Wednesday afternoon, dancers dressed in colourful Punjabi attire with all the fineries in place, huge cut-outs, a well-stocked bar, a makeshift jutti stall, people posing on cycle-rickshaws...our Punjabi star Gippy Grewal takes the centre-stage attired in a Phulkari jacket and saffron pug. Dancing to his tunes are two pretty damsels – Karishma Kotak and Monica Gill. The happy trio is dancing to the beat of dhol celebrating Baisakhi for their upcoming film, Kaptaan. The film is going to be a sure hit is the buzz on the sets at a banquet hall at Zirakpur-Patiala road.
Some heavy dancing, bright lights and scores of people make the atmosphere unbearable. Gippy removes his vibrant jacket and dries it in front of a fan before getting back into it for another shot. Some successful moves and finally the cast and crew break out for lunch; Gippy sits to answer our questions. What we surmise from the conversation, one, he is here to stay; two, the hits and flops are just two words for this artiste.
Story telling
"Kaptaan is a 'drama' kind of a film. We don't make such films here. It's a light film before interval and takes a serious turn post it. I play Kaptaan, a nikhatu (useless) advocate who gets no cases. A turn of events gives him a direction and once he takes the stand, he is there to see this through," opens up the actor looking every inch a Sardar and a handsome one at that. He has two pretty girls who play his love interest. "It's kind of a love triangle."
Hit and miss
Earlier this month his Bollywood debut Second Hand Husband failed to tingle at the box office, straightforward he goes, "I saw the film four days before the release and knew it didn't come out right." Though he still finds the plot – a husband looking for a proposal for his wife – riveting enough, he admits that they failed. But it's all under control. "Carry On Jatta came soon after Mirza, my film that got worst reviews. I am fine with Second Hand Husband, it just went unnoticed."
Counting on fans
Yes, Gippy has already signed all rights from the director to actors for Carry On Jatta's second outing. "I am still looking for a script that's as powerful as the first one. Don't want to take chances with the credit the first one has earned."
Another film that has him hooked is Faraar. And, though Gippy believes in putting heart and soul into every project, he is certain that whatever the outcome of his well-meaning efforts be, his fans would go to theatres for their love of him.
---
Women power
Joining Gippy Grewal in Kaptaan is pretty Monica Gill, a model, a beauty queen who thoroughly enjoyed her trip from Boston to Mumbai. Pollywood happened before Bollywood and she is not complaining.
"I am always doing more than one thing at a time. I was writing articles when I was doing my bachelors; while modelling I got this offer and I accepted." Monica plays a padi-likhi Punjabi girl and thoroughly enjoying bonding with her co-actors and the crew.
"As I am new to this milieu, Gippy always takes the lead and makes everyone comfortable which is endearing about him."
The film is also the debut platform for Bigg Boss contestant Karishma Kotak, who plays an NRI girl. While she enjoys anchoring for sports and travel shows, post this shoot, she will start shooting for Pooja Bhatt's upcoming film Love Affair.