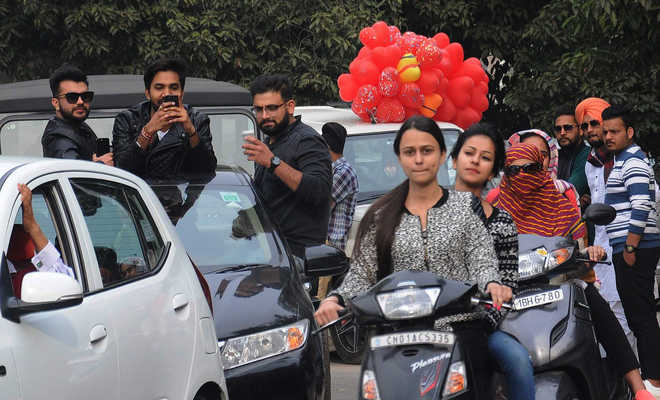 Amarjot Kaur
The geri route, encompassing Sectors 8, 9, 10, and 11, of Chandigarh has commanded much attention for its notoriety. It has thereby made way for what is colloquially called The geri culture. Reflected in almost a dozen Punjabi songs and 25 Facebook pages named after the infamous route, the geri route has an ostensible "entertainment value" attached with it.
At last Friday's Bekhauf Aazadi March, aimed at reclaiming the streets of Chandigarh in the wake of Varnika Kundu stalking incident, 35-year-old Deeptha Vivekanand decided to start a campaign to rename the unofficially named geri route. Her first encounter with the geri route was when the Google Map application on her phone went—'You are on Jearry Route'! "I was like, what the hell is Jearry Route? Later, my husband described it as a place where people, mostly boys go out for a 'geri', while drinking and eating in their cars," she begins, stating that she's originally from Bengaluru and works in Chandigarh as a story teller. She's been in the city for a year-and-a-half, now. "It was only when I went to pick up a friend from the museum and some men zipped through the roads and did stunts around us. I was a little startled and rushed out of there, immediately," she adds.
What's 'geri'?
Decoding the underlying meaning of the word 'geri', Amandeep Sandhu, a 43-year-old novelist, who's currently in Europe, posted about geri on his Facebook account, last week. The post reads:
Where does it come from? In fact the term for its role in the masculine feudal culture of Punjab is gerha. Calling it gerhi, the feminine, is to ascribe gentler qualities to it, make it more innocent than its reality which is super macho, fraternity bonhomie, drinks, loud music and arrogance on the roads. Gerha comes from the landlord going on horseback to survey his fields. While earlier it was a sign of protection and power and vigilance the act has now become a ritual. Within it, the term encapsulates the political economy of large farms where the malik (owner), has many siris (serfs) working for him, some from landed castes and many from landless. Now that owners are separated from lands - absentee landlords - and moved to cities, changed their steed from horses to SUVs, the necessity has become an empty ritual. You are very mistaken if you feel gerhi in cities is some harmless men having some fun - chicken and rum - without harassing women. That is not how women feel, that is not how non-Jutt/Jatt feel.
---
Her voice
This is the first time I've heard about the geri route. It wasn't there when I was studying in GCG-11 from 1969 to '72. Even when boys eve-teased us (they would usually sit on the walls of our college), we would answer back! Even girls would be on their bicycles and scooters at the route you mentioned, not only boys. But there's a huge rural and urban divide. When people from rural backgrounds come to Chandigarh, after selling their lands, they bring along a feudalistic mentality. But Chandigarh has always been very progressive.
The name Geri Route is not the official name, so how can you change it? But naming it Aazadi is something I don't understand because after JNU, Aazadi has different connotations altogether.
—Kirron Kher
Top Stories