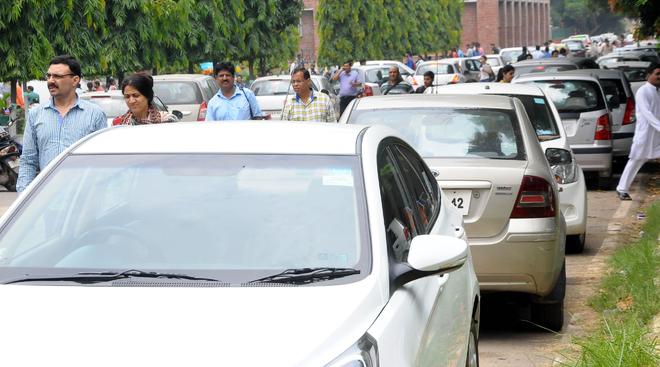 Manpriya Singh
To ban or not to ban! The mere thought of cars out of campus has the students line-up on two opposing sides of the fence. In the din of those of screaming 'whaaat' and others exclaiming 'wow', let's hear it out from those in there...
But before that, a brief recapitulation. More than 50 per cent Panjab University students are in favour of a four-wheeler-free campus. During a referendum conducted by the university during the Panjab University Campus Student Council elections last week, as many as 53.2 per cent voted in favour of a ban on students' vehicles while 46.8 per cent (2,916 students) voted in favour of entry of students' vehicles in the academic areas of the North campus. That's some statistics to be taken seriously and debated upon.
Ban does not make sense
I was deeply shocked to read in the newspaper about Panjab University's plan on banning four wheelers. Though at every gate there is security but they should regularly check the ID cards of the students so that there is no scope for outsiders entering. Those who come for some work in the administrative block should either park their vehicles outside or should be given a one hour pass. Rather than banning the vehicles, alternate measures should be taken. Especially research scholars should not be bothered with such a thing as they need to constantly move to and fro because of research work. If we aren't allowed to bring our cars inside the campus then how do they expect us to reach the campus? In the 21st century everyone has their own mode of conveyance, it is impossible to manage each and every student through shuttle service or e-rickshaw. This facility might be beneficial for hostellers but not for day-scholars.
Amreen Sekhon, Ph.D Research Scholar, Psychology Department
One for the academic environment
After the Panjab University has carried out a referendum and majority students have rightly voted in favour of a vehicle- free campus, I would like to add that if multi-level parking facility and parking lots can be made with ample space around the campus that would be great. Students can park their cars in these areas and walk down to the academic areas. The administration will need to take steps like adding special shuttle buses and e-rickshaws simultaneously. This would also help reduce eve teasing and deter rowdy elements to enter the campus. Further, it will encourage an academic environment.
Abhinav Sood, Former student leader, Department of Laws, PU.
Multi-level parking, the way out
We haven't had a meeting yet with the Dean, Students Welfare, so will not comment on anything. But yes, personally making parking facility available has been on our manifesto and we will work upon it. Banning four wheelers is not the way out because even staff and faculty vehicles are quite a lot in number. There should be a multi-level parking instead and which can easily be provided at places like the pool area around the Administration block, which is generally lying unutilised and empty.
Jasmeen Kang, President, Panjab University Campus Students Council
Outsiders, please stay out
It seems irrelevant to me to not allow four wheelers on the campus. If congestion is the cause then that can be easily controlled by regulating the entry of outsiders. I see so many of them everyday. They are not even students and they come inside. The security staff should check the ID cards daily. Those who belong to the institute should be allowed inside. For outsiders, there must be some parking arrangement outside. I also don't see any space being compromised as the university has ample space.
Mitika, Department of Psychology, PU
Top News
The minister's comments come against the backdrop of the US ...
Describing the allegations levelled by Justin Trudeau agains...
Raids 51 places in Punjab, Haryana, Rajasthan, UP, Delhi
The seized substances are three packets of narcotics, wrappe...
Ashwani Kumar's work on potential reduction in TB treatment ...