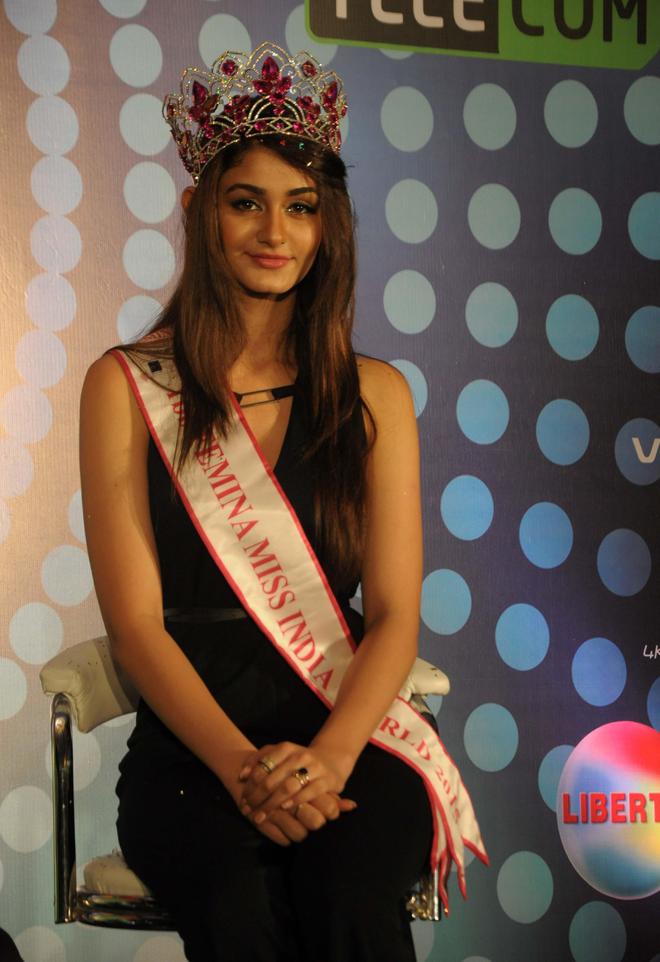 Amarjot Kaur
A battle between morality and vanity, or a platform that sifts substance from the superfluous? While many may choose to reserve their opinions about beauty pageants, which are often touted as luring gateways to Bollywood and Hollywood and have repeatedly been accused of objectifying women, Aditi Arya, Miss India World 2015, who has been roped as the youth icon for the third season of Young Manch by Videocon Telecom, shares her views about these pageants.
Currently preparing for the Miss World beauty pageant, Aditi also works as a business analyst for Ernst and Young. However, as she talks about the stereotypes that stand associated with beauty pageants, especially with reference to the radical feminist Miss America protests that took place in 1968 during the Miss America 1969 and the Miss World protest in 2011, Aditi seems to be a little withstanding of the references as she justifies, "Yeah! I know where you are coming from and the beauty pageants have come a long way since 1968. They just eliminated the bikini round last year, which Julia Morley, the chairperson of Miss India Organisation, felt did not give much about the contestants," she says.
While talking about the objectification of women, Aditi agrees that the beauty pageants do, somewhat objectify women, but then they are also looking for substance.
"For instance, most of the women in my batch of Miss India World were either doctors or architects. The fact that most people look at a beauty pageant as a ticket to the entertainment industry is quite misleading," she says. However, Aditi seems a little frazzled with the mention of names like Lara Dutta, Sushmita Sen and Priyanka Chopra, who rose to fame on the front burner of popularity with these beauty pageants.
"Well, they were very young. Priyanka was only 18 and then when you are given an opportunity to act and the offers are very lucrative, you are bound to take it, mainly because the entertainment industry aims to cash in on their international beauty titles," she explains.
Aditi avers that beauty pageants explore much more than just the beauty bit. "We had women of all shapes and sizes and all kinds of complexions this time, but the focus was on who they are inside, as people. In fact, the biggest challenge for me was to be myself and show who I really am," she says.
Meanwhile, Aditi also briefs us on the official and unofficial philanthropic activities she has to her merit for becoming a Miss India world. "I did teach a child with cognitive disabilities and I do keep guiding people about career, be it my driver's son or others," she shares. Aditi says that she has worked with an NGO titled Protsahan and has also been asked by the State Government of Haryana to take part in the Aanganwadi workers programme.
"I feel that the beauty pageants empower women. Also, I am really glad to be a part of Young Manch, which gives opportunities to people to showcase their talent and potential. I strongly feel that the women of India should get education as it is the only way they can improve their life. Last but not the least, I really want to thank Videocon for roping me as their youth Ikon," she signs off with her Miss India world speech!
amarjot@tribunemail.com