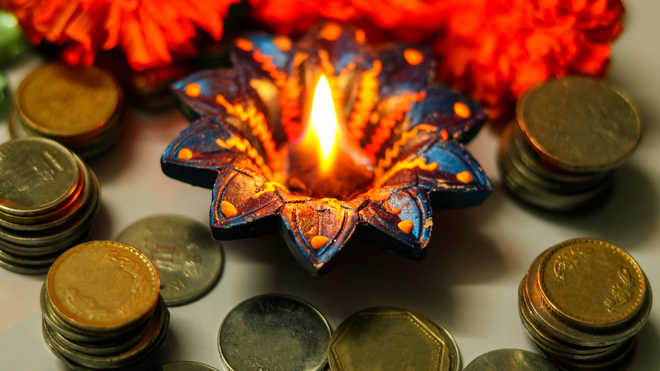 vinaymishra188@gmail.com
Mona
On the coming Friday, as Dhanteras officially begins the festival of lights, the hustle-bustle in the markets is set to touch a new high. Faith, superstition or tradition, celebs share their take on their Dhanteras.
Shining jewel
Dhanteras reminds me of younger days when mom would take me along as she shopped for jewellery. Last year, I bought an idol of Ganpati Bappa. My wish-list for this year is some jewellery, maybe a bracelet or a pendant, or both. — Roshni Walia, Satara
Family first
On Dhanteras, I always buy a silver coin. I feel it blesses me throughout the year and brings good luck my way. Last year I also bought a car for my parents. This year, I am planning to buy a new house for them. — Akanksha Puri, Vighnaharta Ganesh
Dear mom
My mother has given me a Durga Maa pendant, which is my lucky charm. Last year, I had bought a beautiful gold bracelet. This year I intend to get two pairs of same jhumkas, one for me and one for my mother! — Urvashi Pardesi, Tara from Satara
Little ritual
Every year we buy silver Ganesh and Lakshmi idols. My husband is an ardent Ganesh ji follower and our own little ritual has really proved lucky for us. — Hunar Gandhi, Paramavatar Shri Krishna
Fun time
This Dhanteras, I am buying a new car. So I am super-excited. Well I don't really know about luck, but Dhanteras has been a custom and it brings excitement. — Saumya Tandon, Bhabiji Ghar Par Hain
Golden thought
I usually go for gold coin on Dhanteras. I have some wishes that I hope to fulfil this time around, which I will share once they are successfully completed. — Simran Khanna, Yeh Rishta Kya Kahlata Hai
New house
I plan to buy a new house on Dhanteras. Last year, I had gifted a gold ring to my nani and this year I wish to gift her gold earrings or a chain. – Namish Taneja, Vidya
Happy start
This Dhanteras, I am investing in a house. We start with exchanging gifts with friends and family; so Dhanteras is a happy start. — Avinesh Rekhi, Choti Sarrdaarni
Shining through
Dhanteras is the day for celebrating wealth, as the word Dhan literally means wealth and Teras comes from the Lunar date 13th. It's also celebrated as Dhanwantri Jayanti, a day to pray for both health and wealth.
Shubh Muhurat: October 25, 2019, 7 pm to October 25, 2019 4 pm.
For good luck
Remove all unused unserviceable electronic items, rags, old newspapers from your home.
Purchase gold or silver or any long-lasting household item.
Replace the old purse or bag with a new one.
(Astrologers Madan Gupta Spatu and Bhushan Sharma)
Top Stories
Cities