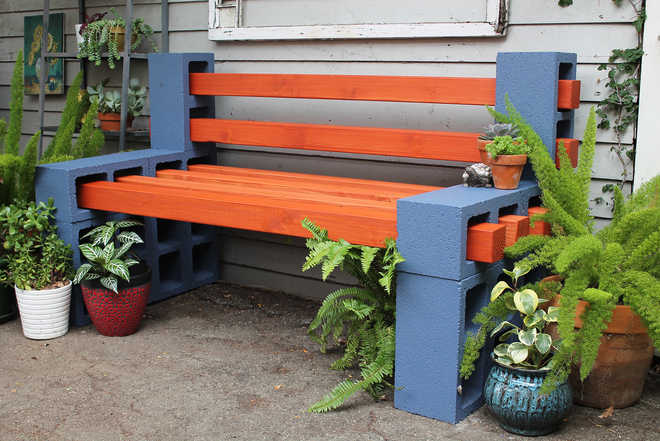 Sukhmani
Concrete blocks are large rectangular bricks commonly used in constructions. They are made of pure concrete. That is, the aggregates used are finely crushed stone or sand. Cinder blocks are also made from concrete, but the aggregate includes either coal cinders or ash. Consequently, cinder blocks are much lighter than concrete blocks. Concrete and cinder blocks are made with open cells that can accept metal reinforcing or additional concrete for greater strength. Concrete blocks are far stronger than cinder blocks.
Concrete and cinder blocks have a very raw, industrial look, and this feature is something you can really capitalize on in your home. The grey template also gives you a lot to work with since you can paint the blocks as you wish, and the grainy texture that you get with some of them just adds another great design element. They are also inexpensive and reliable materials for many home and garden DIY projects. With some creativity and time, you can repurpose these smart blocks into practical furniture or decorative pieces at home or in your garden.
Garden bench: You can use wooden boards and cement blocks to build a nice seating area in your garden. It's really simple and you can customize and adapt the design in lots of different ways so it suits your space. The bench is weatherproof, tough as nails and it looks great! You can decorate it even further; the only limit is your imagination.
Vertical Planters: Don't have much of a garden but still want some plant life outside? No problem! The holes in the cinder blacks are perfect for potted plants. All you need to do is arrange them in your own way to bring nature that little bit closer.
Garden stands: You can paint the outside of a cinder block, but have you ever thought about painting the inside? Add pops of bright colour to the inside of a cinder block for some modern decor for your garden.
Outdoor stairs: These blocks are ideal for creating steps in your gardens. They don't rot like wood would and blend well with the outdoors. They are hugely practical, inexpensive and they look great!
Bookshelf: Stack the concrete blocks and two wood planks and you'll have a nice bookshelf.
Fire pit: You can build an easy, affordable and functional fire pit from concrete blocks. All you need is 16 concrete blocks to make a nice, smallish fire pit in your back yard around which you can socialize and keep warm.
Modern centrepieces: Plant fresh flowers in a cinder block and use it as a centrepiece on your table. The dainty, pretty, natural flowers directly contradicts the cold, hard, angular cinder block, and that's why they work so well together.
Vases: Paint the cinder blocks in plaid stencils and transform them into beautiful vases for your patio.
Raised garden bed: If you are thinking about adding a raised bed to your garden, using cinder blocks is a good choice because they are quick and easy to install, and less expensive. What's more interesting about them is you can use the little holes to plant even more flowers or herbs.
Birdhouse: Turn a cinder block into a birdhouse! It's such a fun and cool idea. Kids will love it.
Decorative tower: Paint the blocks and stack them to build a cool totem sculpture.
Table: A cinder block table is very easy to make and only requires four blocks and a wooden board.The gaps in the blocks can act as drawers, or you can find some pretty decorative pieces to keep there.
(Sukhmani is a Chandigarh-based interior and landscape designer)