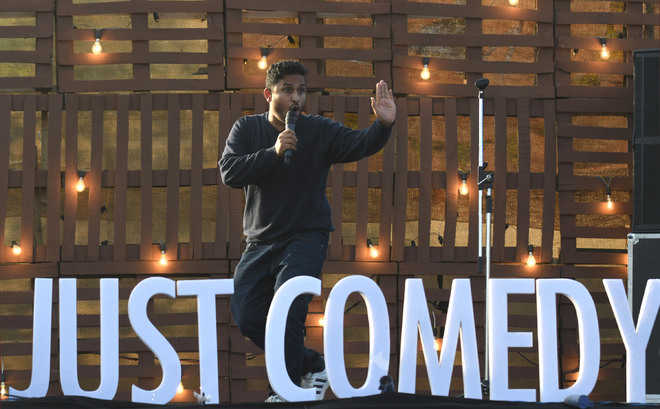 Jasmine Singh
Jaspreet Singh, stand-up comedian from Amritsar, is currently based out in Gurgaon. A turbantor, now, chances are we would be expecting some Santa-Banta jokes from him, or maybe a balle balle as a suffix after every one liner. Well, if this is what you expect going by the name, then either search YouTube or just wait for him to surprise you with his impeccable, witty, sensible, articulate, and hilarious comedy.
In Chandigarh to take part in a two-day Just Comedy festival, Jaspreet Singh is not out to break any notion as how people perceive a Sardar cracking jokes. "But if that notion broken, it is an added advantage."
Born with a funny streak, Jaspreet discovered that he could stand at ease in front of 200-300 people and crack all kinds of jokes, on renting a house in Gurgaon, on his father, on how parents coax children to eat certain vegetables. "Mujhe gaaliyan padti hain social media for cracking jokes on my father. And I would like, yaare agar mere dad ko problem nahi haim, to tumhe kyun."
And you bet his father doesn't have any issue with Jaspreet using his designation of a 'father' generously in his comedy. "My father likes my comedy and he knows how to take a joke," adds the funny man, who has some clear fundas about stand-up comedy. One, his jokes are not political in nature, you may say it is prohibited and two, "I don't make jokes on particular sardar families. My jokes represent any middle class family or a family in general." While Jaspreet has recently quit his job, 'almost 15 days back', he fills up the gap. He will now be devoting his time only to comedy. "Jey chaleya kam ta," he adds.
But wait, he has something to say to people who come to watch stand-up live. "Enjoy it, laugh if you want, don't if you don't want but do not record the live show without prior permission. It takes months for us to prepare an act and then someone just records it, just like that."
Sumaira Shaikh is a writer for comedy collective AIB and a stand-up comedian. And the most interesting part that despite the stone-faced manner of comedy she makes people laugh out loud.
'I'm not affected by trolls'
Did you miss his talk show—Son Abish? Oh, you did! Well, then it could be your laughter assignment for the day, especially if you couldn't catch him performing at Kalagram for Just Comedy. The stand-up comedian has a huge appetite for all kinds of jokes. Any forbidden ones though? "Well, there are no taboo jokes for me. But at the same time, I normally gauze the mood of the audience few minutes into the show and then I know how to proceed." Writing jokes is a tough job, and who else but Abish can tell you better. "It is like digging gold in a mine. See out of 10 jokes, audiences might respond to one. So, letting the other jokes go is not easy," shares Abish. We get it, making jokes is not easy. But what about jokes that offend? You must hear Abish out on this! "My jokes are relatable, and if they are relatable only then they might be offending. If I am cracking a joke on divorce and someone in the crowd has gone through it or going through, will be able to relate to it. However, the best thing about our generation is that one joke is taken out of context and then quoted on social media. Though I look at this as a feedback, I have stopped being affected by trolls."
What to expect
Just Comedy Festival, powered by Comedy Central; in association with Chandigarh City Centre, a fun-filled weekend event held at Kalagram Chandigarh, also happens to be the first open-air comedy show at such a large scale in the region.
Day 1 of the festival was completely sold out, with people hoarding to the venue to watch the performers of the day- Abish Mathew, AIB sensation Tanmay Bhat, Sumaira Shaikh, Gaurav Kapoor led buy the headliner of the day Zakir Khan. Zakir claimed to have a special connect with Punjab and said that the Tricity feels like a second home to him.
The second day of the festival will see Kanan Gill and Ssumier Pasricha aka Pammi, Jaspreet Singh, and Varun Kumar perform. The festival also took an initiative in finding local talent through a contest that took place as a pre-event activity. An initiative conceptualized by Speed Records and EYP Creations, the festival has opened up a market in the region for festivals of the like to take place.
Top News
The minister's comments come against the backdrop of the US ...
Describing the allegations levelled by Justin Trudeau agains...
Raids 51 places in Punjab, Haryana, Rajasthan, UP, Delhi
The seized substances are three packets of narcotics, wrappe...
Ashwani Kumar's work on potential reduction in TB treatment ...