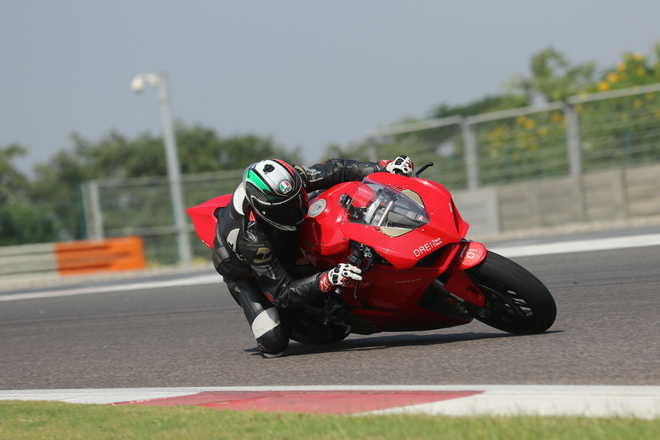 Gurnaaz Kaur
If you are a speed junkie, like to control the ride and love to feel the wind in your hair, can there be anything that matches the pleasure of owning a motorbike? And for those who think these bikes are a poor second to expensive supercars, rethink. Not only can motorcycles be modified, they are much faster than the supercars, which cost 20 times more than a superbike. Chandigarh has many such residents who take pride in owning such mean machines. They are in the real sense, their dream machine. Vintage, classic, sports, these bikes are a story in themselves.
The king
Kawasaki Z1000
Captain Puneet Raj Singh has been a biker since his school days. Today, he has Kawasaki Z1000 as his fourth bike. Having ridden over one lakh km on motorcycles, he knew this one had to be the most powerful ride. "My first bike ever was a Kawasaki, so I already knew they make very fast motorcycles with top notch reliability. And since I wanted a super naked motorcycle, it had to be the Z1000. It's known to be the most challenging ride and has names such as 'The King', 'The Widowmaker', based on its futuristic looks and performance." Having his facts in place, this mariner tells, "This motorcycle was the first superbike in the world and is responsible for the advent of superbikes made today." Puneet spent Rs 17 lakh to bring Chandigarh's first Kawasaki Z1000 four years back. He doesn't fret about its maintenance because he says it is the very minimal. "The servicing is either once a year or 6,000 km, whichever comes first, and the cost is around Rs 10,000."
Beautiful beast
Indian Chief Classic cruiser
With an Indian Chief Classic cruiser, Ashutosh Gopal, senior director, Nagravision India, feels he has one of the finest bikes to himself. "It has a wonderful engine, commanding road presence, stability and safety and the most beautiful profile of all motorcycles." Buying it meant dropping how much dough? "The on-road price is about Rs 25 lakhs plus accessories of another 6 lakhs." In this one year of his bike, Ashutosh says it has been sturdy and maintenance-free.
Italian envy
Ducati Panigale V4
This must be a dream of many bike enthusiasts. Iresh Mehta, a senior manager at Quark, has the delight of riding it. This one kind of chose its master. "It is my third bike. My first sports bike was a Ducati Monster 796 that I bought in 2012. I moved on to a Kawasaki Ninja ZX10R in 2014. Now I'm back to Ducati since August 2018. What got me to invest in my first big bike was a casual test ride at the local Ducati dealership. I remember not wanting to get off the bike at all— the power was so addictive." The joys of owning a sports bike are many, for Iresh it is, "The ability to take it to the race track and getting your knee down. We have the privilege of having access to one of the best race tracks in the world— Buddha International Circuit—where once can safely unleash the full potential of these remarkable machines." No doubt he spent 20.53 lakh on it.
Classic cruise
Harley 883 Sportster
After sports bikes and a classic, next on the list is a cruiser. It's the first Harley Davidson 883 Sportster of Chandigarh bought by Param Oberoi, a financial advisor, in 2014. What's exclusive about this one is that it is a CBU model, straight from the US. "This motorcycle was a rare classic which was not available locally. I also liked its comfort and speed combination, which strikes the right balance." An added attraction for Param is its swanky colours. Back in the day, he paid nine lakh for it. "Out of the Harley Davidson motorcycles, this was one of the first bikes to have excellent dual disc brakes."
gurnaaz@tribunemail.com
---
Safety sake
One must buy the best safety gear to ensure maximum safety. The mantra is ATGATT, which translates into 'All the gear all the time' and it is not without reason. The main safety gear that a biker can invest in would include, auxiliary lights for better illumination of the road ahead (5 thousand to 1+ lakh), helmets (from 1,000 rupees to 1 lakh per unit), armoured pants, gauntlet gloves, riding boots (dozens of types available), jackets (all weather, warm weather, cold weather, adventure and so on), intercom sets for communication.
What's so special?
Every motorcycle has a distinctly unique character or quirk for which fans worship them. For super naked, super sports bike riders, it's the acceleration, speed, sound, adrenaline rush that does the trick. For cruiser lovers, it's the heft, looks, bling, size and comfort that works. For adventure touring bike lovers, it's the touring ability, range, toughness and ease of maintenance that does it. While for those who want to leave it all behind and go off the grid, it's the true adventure or off-road bikes that fit best.