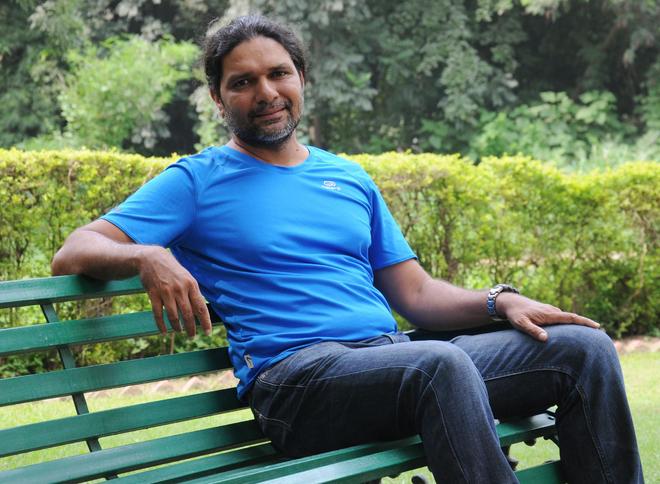 Mona
Pankaj Trivedi is a man on the move. While he tours the country on his BMW bike some nine to ten months a year, not only he is living his dream of being on the wheels but also taking you on a journey to India that you have rarely seen; and fulfilling the dreams of many others he comes to know on this journey.
Like he found this village called Kharaghoda on the border of Rann of Kutch that has 1200 widows living there. Surprised at such a high number of widows, he got to know that men of the village go to the desert to make salt and stay there for months together. With no vegetables there, their immunity goes down and any disease, there goes a life. Pankaj got together with his friends and introduced the villagers to the concept of 'wicking bed'. Now, these villagers can grow their own vegetables with the water they use to wash their vessels.
Pankaj always wanted to travel. He has already completed a trip from the UK to India in three months-and-a-half in 2006 on his bike; Arunachal Pradesh to Rajasthan that he calls A Ride Through Heart, a ride not only through heart of the country but also its people, and to the highest motorable road, Ladakh.
In love with the road, this is what he wanted to do for the rest of his life but how to fund his passion was the question. A photographer, he learnt to make films and started a project called Half Stories. He picks up people or some project, shoots the film, puts it online, with donations he receives, he finishes the projects and also the films.
"People sometimes don't have solutions or money for it. I try to get them both," opens up Pankaj, in Chandigarh for Chandigarh Cinema Festival. Like there is this orphanage in Lonawala that couldn't pay its electricity bills for 112 inmates that it housed. Solar panels were installed in the premises, now this institution doesn't have to worry about its power bills ever. Funded by Tata Capitol, Pankaj is out on a Journey of Doing Right.
Travelling solo, doesn't he ever fear for his safety?
"Nah, how can you," he asks. "This country is full of beautiful people who open up their homes, hearts and are ready to do every possible thing to help you," says Pankaj. "Even if you stand and stare at your bike for like 10 minutes, there would be people asking, 'Do you have a problem' and would lift you and your bike, give shelter and food till you want," says this biker-filmmaker who shares that he had the best cup of tea in a desert.
"As I asked for the way, this man took me home and offered me a cup of tea. The glass was broken, there was no sugar or milk for there was no money to buy but it was best they had to offer before they put me on right way!"
You can watch Pankaj's Biker's Travelogue on Saturday at Government Museum and Art Gallery-10, 11am onwards
Court-ing success
Actor, producer Vivek Gomber knows no home. Having lived in India, Singapore and the US, he was in Chandigarh with his film Court that's been screened at some 30 films festivals and won awards. Having done plays, TV and films, Vivek gave a go-ahead to the film that brings the real court scene of India for he had faith in the vision of his friend Chaitanya Tamhane who directed the film. The very humour that wraps in the sad state of affairs is what makes the project dear to Vivek. And having won Best Film in Horizons Category and Lion of the Future in Venice Film Festival, he is aiming at Oscar next.
mona@tribunemail.com
Top News
The nasal vaccine—BBV154 -- had received DCGI approval in No...
Egypt's President Abdel Fattah al-Sisi is the chief guest at...
Announcement was made by Adviser to the UT Administrator Dha...
It reflects the 'myopic' mindset of those in power at the Ce...
In the last year, more than 70,000 people globally have been...