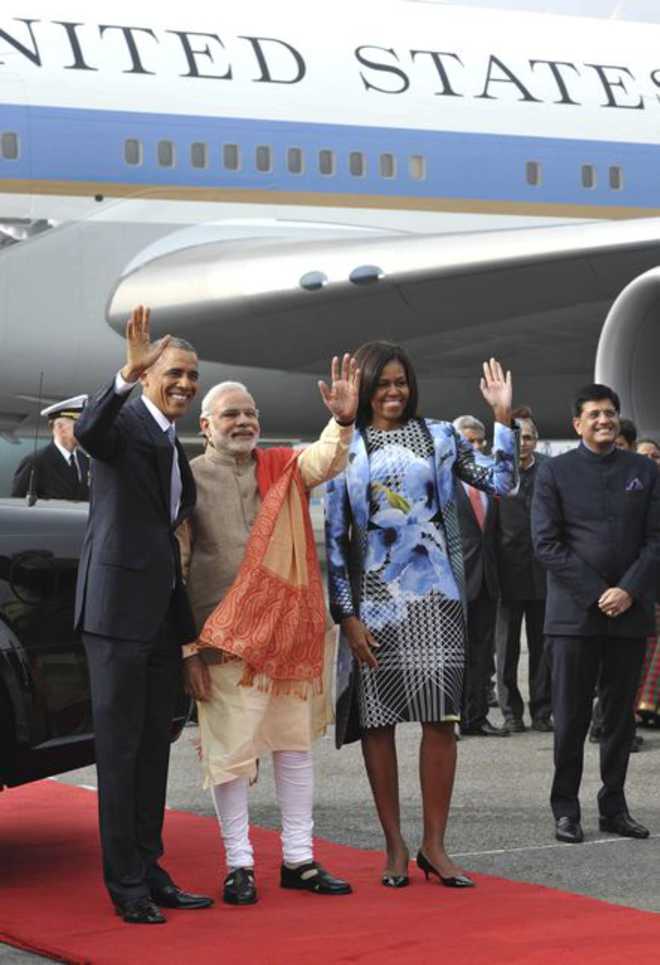 Mona
When the Obamas accepted the invitation to be the guest at the Republic Day parade, fashion circles went abuzz on what would the First Lady of the United States wear on her India visit…right from a gown draped like a sari to palazzo pants paired with crop top or a hand-spun khadi ensemble were the choices floated for her. On the actual event, however, it wasn't the usual head turner Michelle, but the Prime Minister, Narendra Modi, who turned out to be the show stealer!
It was not just the social media that went gaga over his change of dresses. "The Prime Minister is a style icon. I would also like to wear Modi kurta," conceded President Barack Obama. The fashion fraternity hailed the Prime Minister on his sartorial choices; his detractors sang another tune…
"What I loved the most about the event was that each of them stuck to their background and culture," says India's finest costume designer Ashley Robello. "The President stuck to two-buttoned suit meant for stately functions adding a tinge of colour with a lilac tie; Michelle's contemporary shift dress was subtle and classic, nothing in your face kind. Modi's colourful tuft was the symbol of national culture." Ashley loved Prime Minister's Nehru jacket too. "I am impressed how Modi turned this sleeveless coat usually worn by Maharajas into a style statement. The colour orange suited the occasion well."
The Prime Minister gets thumbs up from compatriot Kirron Kher too. "Modi Ji loves to dress well. It is obvious and it is very nice. When we were young, we were told that dressing well is giving izzat to the person you are visiting or receiving home," says the Chandigarh MP adding, "Look what a sharp contrast it is to Aam Aadmi people, uncouth, unshaven and un-presentable," says Kirron, admiring the First Lady too who thoughtfully chose Indian born, New York-based designer Bibhu Mohapatra's printed dress and coat ensemble.
However, Modi's dressing sense didn't cut ice with a leader of Congress, Manish Tewari, "Narcissism coupled with extreme megalomania is not a style statement. The PM of India does not need to pin stripe his name on his suit. In any other country he would not have lived it down. Maybe he wanted to teach Obama the spellings of his name."
All in all, all three won the hearts of those who love to dress or design. "Prime Minister Narendra Modi kept his focus on promoting the techniques and the skilful handloom heritage through his wardrobe while President Obama and the First Lady kept a balance between the formal and the courageous trends of fashion through his choice of classic and her choice of the colour mixed with geometric and floral motifs. The Prime Minister, by far got his point across best by endorsing the skilful weavers who managed to weave his ethos through the outfit which he wore so elegantly," is how India`s foremost name in Luxury Men`s Wear Raghavendra Rathore sums it all!
mona@tribunemail.com
Top Stories